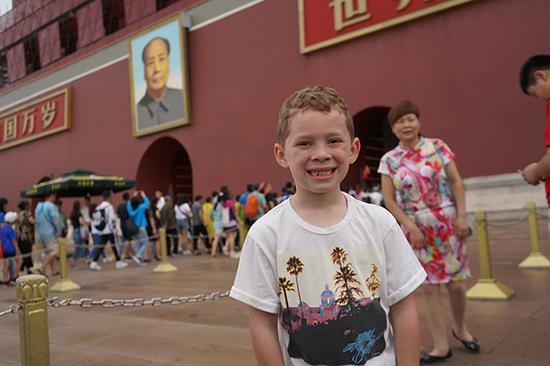 Gavin Thomas, eight-year-old American boy, known as "the boy with a fake smile" in China, rose to fame on the internet thanks to his unique facial expressions. (Photo provided to China Daily)
The 8-year-old American, who has online fans in China, will soon see T-shirts with his facial expressions on them.
Chinese fans know him as "the boy with a fake smile".
His facial expressions have been used widely on Chinese social media as emojis and animated GIFs, which are compressed image formats, making Gavin Thomas, 8, a net celebrity in China. He gained more than 1 million followers on his Sina Weibo account within 24 hours of his page being launched on July 12. Four months later, the number nearly doubled.
In August, Thomas made his first trip to China, where he visited the Forbidden City in Beijing and the giant panda reserve in Chengdu, Sichuan province.
The boy, who was born and lives in Minnesota, the United States, was stopped on the streets of China by his fans who wanted to take selfies with him. His trip had trended on Chinese social media, too.
"I have a big smile and people told me that I am cute," says Thomas in an email interview. "I do hope to return to China. I want to play video games or make videos when I grow up. I am taking acting lessons."
His favorite hobbies are video games, fishing and soccer, he adds.
Earlier this month, Thomas traveled to Nanjing, Jiangsu Province, as an invited guest to the 2018 Tencent Global Partner Conference, where a contract was signed to have the Chinese internet giant Tencent feature some of Thomas' videos on Yoo, the company's new short video app.
In addition, a Chinese design company will start to sell T-shirts and phone covers with Thomas' facial expressions on them, on the Chinese e-commerce platform, Taobao, in December.
"China is an extremely important and a special market to us. When we realized Gavin's fan base in China, it felt important to lean in and spend time with his fans. We have a handful of projects in the works that we're excited to share," says Byron Austen Ashley, Thomas' Los Angeles-based agent.