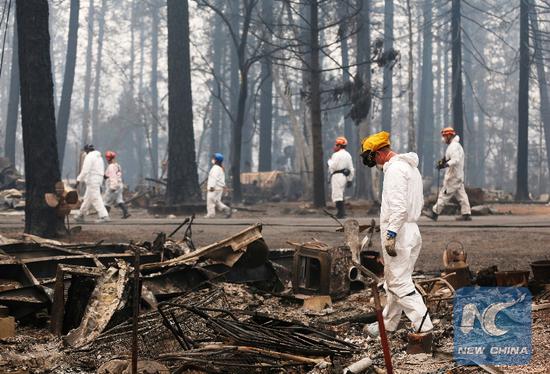 Rescuers work among debris after the wildfire in Paradise, California, the United States, on Nov. 13, 2018. (Xinhua/Li Ying)
The death toll from the wildfire in Northern California has increased to 63, while 631 others were listed as missing, authorities said on Thursday evening.
Search and rescue personnel found another seven human remains in and around the town of Paradise, which was decimated by the deadest wildfire in the state's history, bringing the death toll to 63, Butte County Sheriff Kory Honea told a daily media briefing on Thursday.
In addition, a total of 631 people were listed as unaccounted for, which represents a sudden jump from the 130 people missing on the previous day, Honea said.
The sudden increase only reflected the ongoing work of emergency response personnel sifting through reports, Honea added.
He said that since many residents were displaced, it is possible that some of those unaccounted for may have fled to shelters throughout the region and don't know that searching crews are looking for them.
He urged people to look at the list of those unaccounted for posted online and let authorities know if they are safe.
The updated list of people missing published Thursday by the Butte County sheriff included about 300 names, of whom many are aged over 70 and three aged 119.
Cooler weather helped fire crews gain ground Thursday against the raging blaze, the California Department of Forestry and Fire Protection said.
By Thursday evening, the fire was 40 percent contained, the department said.
The Camp fire was first reported last Thursday morning and soon torched Paradise, a peaceful foothill town, and has destroyed almost 10,000 structures.