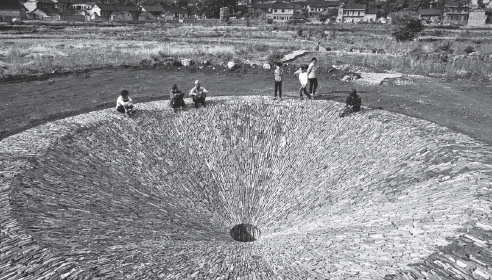 Artist Hu Quanchun's work, a 12-meter diameter stone drain in a rice field, records the history of Yubulu, a picturesque village in Guizhou province.(Photo provided to China Daily)
The Echigo-Tsumari Art Triennial, the world's largest art festival that spans 200 villages in northwestern Japan's Niigata prefecture, closed at the end of last month, but its influence is still being felt in China.
Fram Kitagawa, the festival's founder, received more than 10 invitations from China recently to give lectures on the festival, which is held every three years and has attracted more than 2.3 million visitors to the remote mountainous area since 2000.
Labeled "the art festival of earth", it invites celebrated artists worldwide to create works in sprawling rural areas, including rice paddies, schools that have been closed and empty houses.
Hundreds of works by well-known artists scattered among villages attract not only visitors, but have also sparked a revival in rural areas that are populated mainly by the elderly and children.
The festival's influence has extended its reach to Chinese art circles. Dozens of art events and festivals have been held or planned in villages since the start of this year.
Most are initiated by curators and artists asking the same question--can China stage a similar event in rural areas to revitalize its "empty villages"?
Sui Jianguo, dean of the sculpture department at the Central Academy of Fine Arts, said: "The Echigo-Tsumari art festival is a very successful way to solve the problem of empty villages in Japan. China faces the same problem now."
A leading sculptor, Sui's large-scale works can be seen in many cities. But this year, he has received many invitations to create works for art events in remote villages.
This month, Sui completed his art residency project in Shijiezi, a poor village in Northwest China's Gansu province, which some people never leave due to poverty and poor transportation.
The village was transformed into an art space, with each of its 13 houses functioning as small galleries through collaboration between artists and villagers.
Sui is a judge for a competition aimed at supporting artists to produce tailored works to be installed in the vast mountainous village district of Lishui, near Nanjing, capital of East China's Jiangsu province.
Bamboo forests, rice terraces, mountains covered by tea plants, and vacant factories in Lishui, where dozens of villages are located, have been recommended as exhibition spaces for artists. The project aims to use the power of art to attract tourists, as the Japanese art festival did when it was launched in 2000.
Sui said the popularity of the Echigo-Tsumari Art Triennial among Chinese artists and the rise in the number of art events being held in rural villages in China can largely be attributed to the emphasis on rural revitalization.
For the past decade, rural construction and revitalization have been at the top of the central government's agenda as it aims to inject new energy into "empty villages". President Xi Jinping made rural revitalization a priority for governments at all levels at the 19th National Congress of the Communist Party of China last year.
"Many artists are joining the trend to find creative ways to become involved in rural construction. We can find more interesting ways than the Japanese art festival," Sui said.