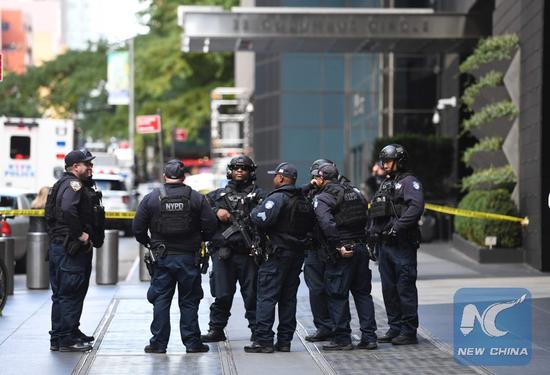 Police stand outside the Time Warner Building on Oct. 24, 2018 where a suspected explosive device was found in the building after it was delivered to CNN's New York bureau. (AFP Photo)
The white powder found in an explosive device package sent to CNN's New York offices "did not present a biological threat," William Sweeney, FBI assistant director, said here on Thursday.
So far, 10 suspicious packages were sent to various media outlets and prominent public figures and all of them were intercepted, said Sweeney at a news conference.
"This is a nationwide investigation involving multiple jurisdictions coast-to-coast" into the suspicious packages delivered to multiple locations around the country this week, he said.
"The investigation is still in its early stages," Sweeney said.
The latest was addressed to actor Robert De Niro and found in lower Manhattan, New York City, on Thursday morning.
The explosive device addressed to former CIA Director John Brennan was sent to CNN's New York offices on Wednesday, hours after authorities said they had intercepted suspicious packages intended for former U.S. President Barack Obama, and former Democratic presidential candidate Hillary Clinton.
Other suspicious packages were addressed to former Vice President Joe Biden, California Representative Maxine Waters, and major Democratic donor George Soros.
None of the devices have exploded and nobody got hurt. The identity and motivation of the perpetrator was unclear.
New York Police Commissioner James P. O' Neill, New York Mayor Bill de Blasio and other law enforcement leadership also joined the briefing.
O'Neill said they had to treat the suspicious packages as "live devices."
"Law enforcement professionals do not care about the politics behind these acts, but (what) we do care about is keeping the public we serve safe," said O'Neill.
The mayor, de Blasio, said the suspicious packages were "absolutely act of terrorism."