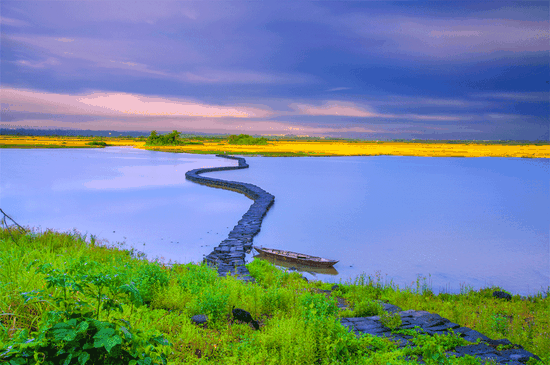 A snake-shaped bridge in a wetland park in Xinjiugou village in Haikou, South China's Hainan Province. (Photo by Zhe Duan/chinadaily.com.cn)
Haikou was honored as one of the first group of international wetland cities at the 13th Conference of the Parties to the International Convention on Wetlands held in Dubai, the United Arab Emirates, on October 25, which was seen as an international recognition of Haikou's ecological protection undertakings in recent years.
Eighteen cities from 7 countries were honored to enter the world's first group list of international wetland cities, with 6 of them - Haikou, Harbin, Changde, Changshu, Dongying and Yinchuan - from China.
An official delegate shared Haikou's experience in wetland conservation and restoration with other delegates from 170 countries at the meeting.
Haikou, capital city of tropical Hainan province, boasts a wetland area of 29,093 hectares and a wetland rate of 12.7 percent. Haikou has been called a "water city" since ancient times, boasting abundant wetland resources with a big diversity that covers four categories - coastal, river, lake and manmade.
About 22 percent of the wetland animals that can be found in China are in Haikou, with 514 species in total. Haikou's wetlands are also home to 439 species of plants, accounting for 20.31 percent of the country's total.
The city has actively practiced the concept that "green water and green mountains are golden mountains and silver mountains", making the protection and restoration of wetlands as a livelihood project to build a happy home for the people.
Haikou has introduced an innovative way which combines protection of its precious wetland resources with restoration of its eco-systems. The city has taken the lead as the first provincial capital in China to compile and implement a general plan on wetland protection.
According to the plan, between 2017 and 2025 the city will build Dongzhaigang National Wetland Nature Reserve, Haikou Bay National Ocean Park and Beigang Island National Ocean Park, four national wetland parks and three provincial wetland parks, as well as 45 wetland protection zones and the Yangshan wetland multi-purpose management zone.
Haikou has earned experiences in integrated planning and supervision of legal measure implementations to ensure wetlands are given effective and good care.
Haikou's new honor should also be attributed to a local publicity network established to build appreciation of Haikou's wetlands, supported by wetland protection associations, public welfare organizations and volunteers from schools, communities and enterprises.
The city's wetland protection center said Haikou now has more than 9,000 wetland protection volunteers, split into 54 teams.
"A good ecological environment is the biggest asset and core competitiveness of Haikou's development," said Wen Bin, deputy mayor and head of the Haikou delegation.