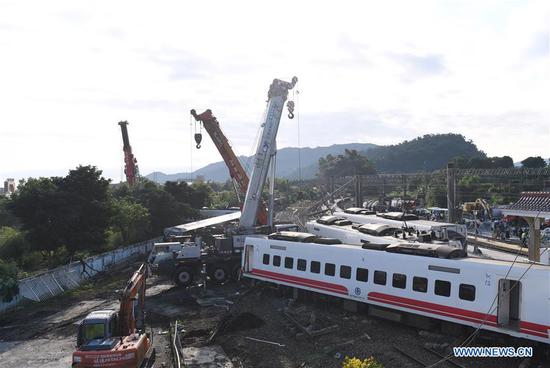 Photo taken on Oct. 22, 2018 shows the cars of the derailed train in Yilan County, southeast China's Taiwan.
Taiwan's transport authority on Thursday said it had approved the resignation of the head of the railway administration, over a deadly derailment.
A Puyuma express train bound for Taitung from Shulin, with 366 passengers on board, derailed in Yilan Sunday afternoon, leaving 18 dead and 190 injured. It was Taiwan's worst train accident in more than three decades.
On Wednesday, the railways administration blamed the driver, surnamed Yu, for speeding, after he had switched off the automatic train protection system without reporting it.
Communication records obtained by the transport authority investigation team and local media, however, showed that the driver had notified the dispatchers of the switch-off.
The records showed that the driver and the dispatchers had been trying to fix anomalies up until the last minute.
The public criticized the railway administration for making the driver a scapegoat, and demanded a thorough examination.
The transport authority said it would complete a safety overhaul of all trains by the end of this week.