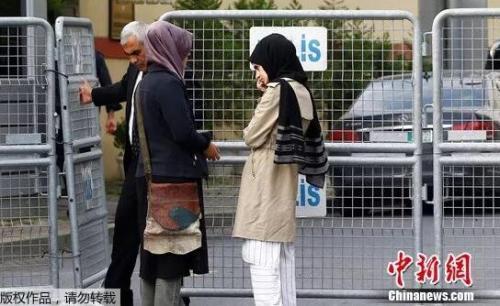 Jamal Khashoggi's fiancee (L) waited outside the Istanbul consulate. (Photo/Agencies)
Saudi Arabia faced a growing chorus of inquiry on Sunday, one day after it admitted that Jamal Khashoggi was killed inside its Istanbul consulate. The writer's disappearance plunged the Gulf kingdom into a spiraling international crisis as world powers demanded answers while mystery surrounded the whereabouts of his body.
Saudi Arabia claimed early on Saturday that Khashoggi died in a brawl but did not provide any details or the whereabouts of the journalist's body.
Meanwhile, 18 Saudi suspects were taken into custody and intelligence officials had been fired.
Turkey vowed later to reveal all the details of a two-week inquiry as US President Donald Trump said he was unsatisfied with Saudi Arabia's response to the columnist's death while the EU, Germany, France, Britain, Australia, Canada and the UN also demanded greater clarity.
"It's not possible for the Saudi administration to get rid of this crime if it's confirmed," deputy head of Turkey's ruling Justice and Development Party (AKP), Numan Kurtulmus, quoted by Xinhua News Agency as saying on Saturday.
"Turkey will reveal whatever happened. No one should doubt about that," Omer Celik, AKP's spokesman, told reporters.
Khashoggi, journalist and columnist for The Washington Post, has been missing since he entered the Saudi consulate in Istanbul on Oct 2.
New Zealand is among the latest countries to question Riyadh's version of events, announcing that it won't be attending a key investment summit held by Saudi Arabia on Tuesday.
The European Union on Sunday urged a "continued thorough, credible and transparent investigation' on the high-profile case, adding the continuing probe should bring "proper clarity on the circumstances of the killing and ensuring full accountability of all those responsible for it".
UN spokesman Stephane Dujarric says United Nations Secretary-General Antonio Guterres "stresses the need for a prompt, thorough and transparent investigation into the circumstances of Mr. Khashoggi's death and full accountability for those responsible".
French Foreign Minister Jean-Yves Le Drian said many questions remained unanswered while German Chancellor Angela Merkel urged transparency, adding that "available reports on what happened in the Istanbul consulate are insufficient".
"We condemn the act with utmost sharpness. We expect transparency from Saudi Arabia in light of the circumstances of the death and the background," said a statement issued by Merkel and German Foreign Minister Heiko Maas.
The United Kingdom on Sunday also said Saudi Arabia's account of the death of Khashoggi was not credible and the culprits must be "held to account".