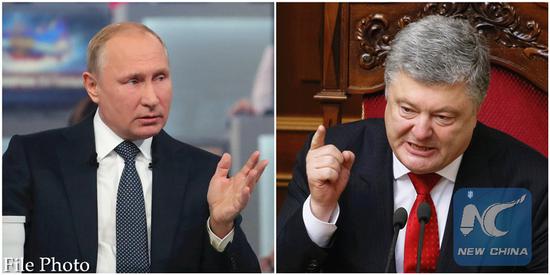 A combination of file photos show Russian President Vladimir Putin (L) and his Ukrainian counterpart Petro Poroshenko.
Russian President Vladimir Putin signed a decree on Monday ordering the government to compile a list of Ukrainian individuals and legal entities practicing "unfriendly actions" against Russia.
The decree, published on the official website for legal information, also ordered the government to determine economic sanctions to be applied to the individuals and entities on the list.
The decree was signed "in response to unfriendly actions of Ukraine contradicting international law" and "the imposition of restrictive measures against Russian citizens and legal entities," without specifying them.
Relations between Kiev and Moscow have been deteriorating since early 2014 over Crimea and armed conflicts in eastern Ukraine. Kiev has imposed a series of sanctions against Russia since then.