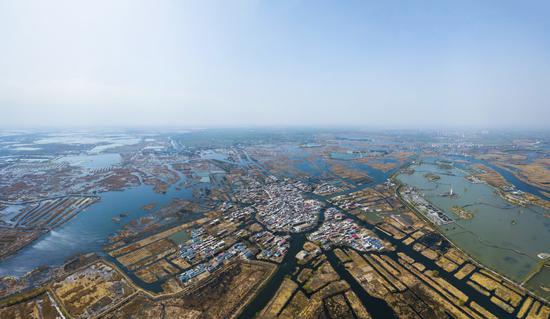 An aerial view of the Xiongan New Area. (Photo/Xinhua)
Xiongan New Area in North China's Hebei province launched a campaign this week to investigate and crack down on all pollution sources across its three counties, a move aimed at improving the area's environment.
Investigation teams have been sent to villages, towns and county areas across Xiongan to locate sources of pollution, including ponds, factories and residential waste, according to Cao Haibo, head of the Xiongan Bureau of Ecological Environment.
"The objective is to improve the environment in both cities and villages, and to make the area cleaner and nicer," Cao said.
The campaign will take about three months and end on January 20.
When it ends, there will be no waste exposed outside, all ponds will meet environmental standards, and no industrial or residential sewage will be directly drained to Baiyangdian, a freshwater wetland in the area, said Liu Baoling, deputy secretary of Xiongan New Area Communist Party of China Working Committee.
Liu said the campaign will give Xiongan a brand new appearance and lay a foundation for building Xiongan into a green area.