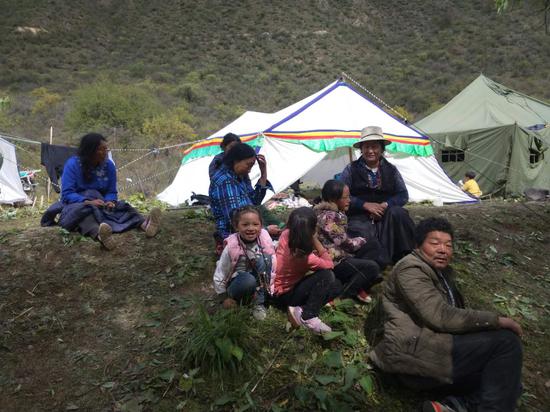 Affected people rest at a resettlement site in Qamdo on Oct 12. (Photo/Xinhua)
Upper reaches of Yangtze blocked in border area of Tibet, Sichuan
More than 24,600 people have been evacuated after a landslide blocked the Jinsha River - the upper reaches of the Yangtze - in the border area of Sichuan province and the Tibet autonomous region, authorities said.
As of 6 pm Friday, more than 13,600 people in affected areas in Tibet had been evacuated. The rising water also caused the collapse of some houses in the region. About 11,000 people from neighboring Sichuan were also evacuated, according to the Ministry of Emergency Management.
The landslide occurred around 7 am Thursday in Qamdo city, though no casualties have been reported. As of 3 pm Thursday, about 100 million cubic meters of water have accumulated in the barrier lake, according to the Sichuan flood control authority.