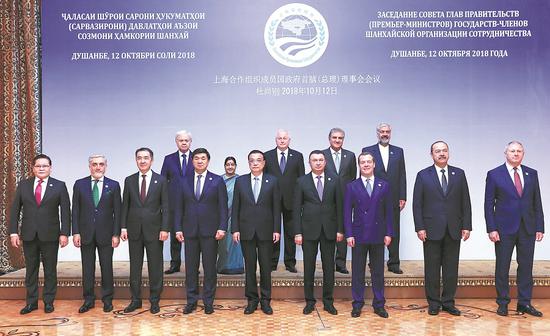 Premier Li Keqiang poses with other leaders on Friday at the 17th meeting of the Council of Heads of Government (Prime Ministers) of the Shanghai Cooperation Organization in Dushanbe, the capital of Tajikistan. Li urged the member countries to enhance multilateral trade cooperation. (Photo/Xinhua)
Premier Li Keqiang urged member countries of the Shanghai Cooperation Organization on Friday to further enhance multilateral trade cooperation and facilitate trade and investment liberalization, unleashing bigger potential for common development.
Li made the remarks while addressing the 17th meeting of the Council of Heads of Government (Prime Ministers) of the SCO in Dushanbe, the capital of Tajikistan. The meeting is an annual gathering of the bloc to expand all-around cooperation and promote stability in the region.
At a time when economic globalization is facing twists and turns and the multilateral trade system is shaken, SCO member countries, as beneficiaries of global trade liberalization, should continue to firmly support trade liberalization and a rulebased multilateral trade system, Li said.
China suggests accelerating the start of feasibility studies for an SCO free trade zone for closer economic cooperation, he said, adding that China is willing to increase its imports of agriculture products of good quality from SCO member states.
Countries within the framework should also further enhance security cooperation and regional cooperation, Li said.
In addition, more efforts should be made to improve regional connectivity and construct a regional cross-border network of roads and railways to foster a good environment for inter-connectivity, he said.
China is willing to further promote capacity cooperation under the principle of mutual benefit and environmental friendliness with SCO member countries in areas of infrastructure, processing and manufacturing, energy exploitation and agriculture, Li said, adding that capacity cooperation contributes to industrialization and urbanization. He said China will continue to support more of its advanced equipment and highquality production capacity going overseas.
He also called on China andSCO member countries to further cooperate in innovation, particularly in digital economy, smart manufacturing, biotechnology and clean energy. He said China is willing to provide training and an academic communication platform for young talent from SCO member countries.
As China marks the 40th anniversary of its reform and opening-up policy, Li told leaders at the meeting that, facing the future, China will firmly stick to the broad direction of reform and opening-up; deepen reform and open up wider; and create a business environment that is fair to domestic and foreign investors alike.
China is willing to align its Belt and Road Initiative with the development of SCO member countries so that the organization can be seen as a model of open cooperation and shared development, Li said. All member countries should work under the Shanghai Spirit, the set of values that underpins the SCO, to further promote mutual trust and benefits and create a better future for the organization, he added.
Leaders at the meeting signed a joint declaration and approved a number of cooperative documents in trade and investment, science and technology, and environmental protection.
Li also met with Russian Prime Minister Dmitry Medvedev on Friday afternoon. On Thursday, he met with Kazakh Prime Minister Bakytzhan Sagintayev.