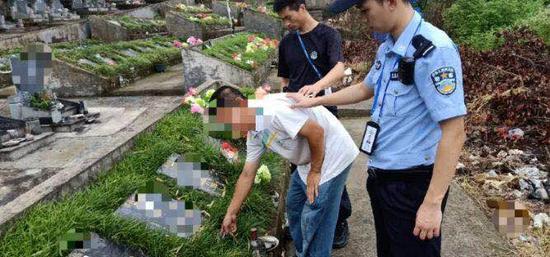 Police took the suspect to the cemetery. /Screenshot via WeChat
A 32-year-old man with mental disability was caught by police for stealing mobile phones buried in a public cemetery, all thanks to a fitness tracking app linked to the social media account of a deceased man.
The boggling case, which stunned millions of social media users, came to light when a woman surnamed Huang who lives in Hangzhou City, east China's Zhejiang Province saw a WeRun post from her late father's account about walking over 2000 steps. WeRun is a step counting app by WeChat, a Chinese messaging platform.
The mysterious post sent instant chills down her spine as she thought her father who passed away in June had returned to life.
The woman said that she dialed the number but it didn't go through. It was then she began to suspect that her father's grave has been robbed.
Next day, her suspicion turned into a shocking reality when she found out her father's grave's slab was moved and all the objects buried underneath had disappeared.
The case was reported to the police immediately after.
It was found that a male suspect surnamed Chen stole the phone out of the grave.
The suspect was said to suffer from mental retardation (MR), and spend a long period of time lurking around the public cemetery attempting to steal from newly-installed graves.
Chen reportedly has committed robbery six times from July 2017 to 2018 and stolen five mobile phones and one tablet from other graves, local police says.
However, the suspect's criminal liability was lowered due to his development disability.
Police has put the suspect on bail pending trial on September 27 as further investigation continues.