In less than two decades, China has surpassed the US and grown into the world's most powerful outbound market, making Chinese tourists a force too important to ignore.
Chinese tourists spent 261.1 billion US dollars overseas in 2016, twice as much as the next biggest spenders, US travelers, according to the United Nations World Tourism Organization (UNWTO).
In 2017, Chinese tourists spent 115 billion US dollars overseas, and in the first half of 2018, made 71.3 million outbound trips, marking a 15-percent growth year on year, according to a joint report released by the China Tourism Academy and Ctrip, a Chinese travel service provider.
"Chinese tourists are the most important powerful single source of change in the tourism industry," said Taleb Rifai, then secretary-general of the UNTWO, in an interview with the South China Morning Post.
The surging number of Chinese travelers is boosting the economies of destination countries, despite instances of racial prejudice and backlash.
The recent mistreatment of a Chinese family of tourists in Stockholm, Sweden, has led to repeated complaints from Chinese diplomats, and calls on Chinese social media for boycotts of Swedish products and travel to the country.
"There are other northern European countries we could visit," said one Chinese netizen on Weibo, China's equivalent of Twitter.
Countries including Thailand, Singapore and the United States are among the top 20 overseas destinations for Chinese tourists, and Turkey, Russia and Sweden are the dark horse destinations with the fastest growth among Chinese tourists.
China already accounts for more than one-fifth of the money spent by outbound tourists worldwide, but the Chinese are just getting started: Only around 5 percent even have passports, and the government is issuing about 10 million new travel documents every year.
The travel and tourism sector contributed 8.3 trillion US dollars, or 10.4 percent, to the global GDP in 2017, of which China accounted for 1.3 trillion US dollars – roughly four times as much as Germany, according to the World Travel and Tourism Council.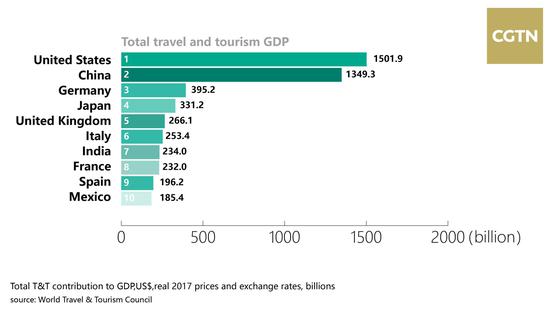 Many countries are making it easier for Chinese tourists to obtain visas, or have waived them altogether.
This October, China's "golden week" holiday is expected to mark another boom in Chinese citizens traveling abroad.