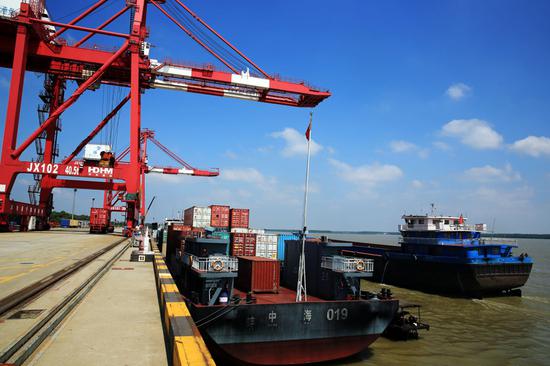 Workers load containers on to a cargo ship at a dock at Jiujiang Port, which is run by Shanghai International Port (Group) Co Ltd, along the Yangtze River in central China's Jiangxi Province on June 9, 2013. (Photo by Zhang Haiyan / Asianewsphoto)
Special: Yangtze River Economy
A more vigorous campaign will be conducted to stop illegal sand-mining activities and eliminate squatter berths and docks along the Yangtze River, according to the National Development and Reform Commission.
A newly released guideline from the commission's leading group promoting development of the Yangtze River Economic Belt includes strengthened scrutiny over protection of the river's banks to help recover the river's ecosystem.
Luo Guosan, director of the commission's fundamental industry department, said new technologies such as drones, cloud platforms and big data, will be used to reinforce supervision of ports and docks to prevent illegal activities.
Joint law enforcement actions, Luo said, will also be performed by maritime authorities and the police, while information will be publicized about the illegally built docks and berths.
The commission issued rules in 2015 targeting illegal berths and sand-mining activities along the river, and has pursued the program over the past three years.
Liu Dechun, deputy director of the fundamental industry department, said that great progress had been achieved since the program began. More than 1,300 illegal docks along main stretches of the Yangtze River were dealt with. Of those, 1,254 were removed and 107 turned into authorized units, Liu said.
Wang Yanghong, director and Party chief of the Port and Shipping Administration Bureau of Hubei province, said, "The thorough regulation program against illegally built docks is unprecedented and the appearance of ports and docks along the Yangtze River has fundamentally changed over the past two years."
Wang said 1,823 berths had existed along the river in Hubei province, but only 566 remained after the regulation.
Several parks with a combined area totaling 5.6 million square meters were built at the sites of removed docks and berths and have become new popular leisure choices for local residents, he said.
"The regulation will be enhanced with a comprehensive system supported both by the government and the market," he said.