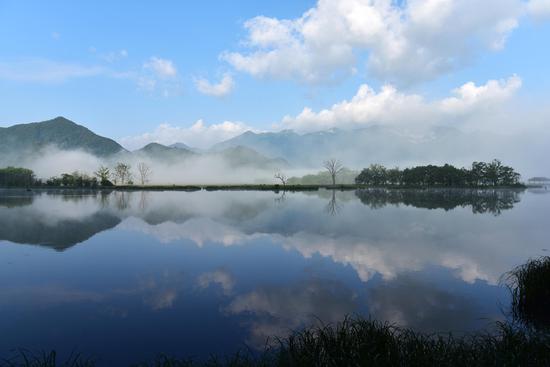 This file photo shows the scenery of the wetland of Dajiu Lake in the Shennongjia Forestry District, Central China's Hubei province.(Photo/Xinhua)
Intensive inspections of drinking water supplies-mainly in reservoirs-have proved effective, with inspectors finding that about half the violations uncovered in visits three months ago have been rectified, according to the top environmental authority.
Inspectors checked 265 previous violations involving 60 bodies of water in eight provincial-level regions in northern China, including Shandong and Shanxi provinces and Beijing and Tianjin municipalities, at the weekend.
"None of the violations has failed to make progress in rectification," the Ministry of Ecology and Environment said in a statement released on Tuesday.
It said three other groups of inspectors will cover the other provincial-level regions, with more than 600 inspectors involved in this round, which will last until Sept 28.
The inspection was launched three months after the ministry completed checks on almost 1,600 water bodies that supply drinking water to all cities in the 11 provincial-level regions covered by the Yangtze River Economic Zone and cities of prefecture level or above in the other provincial-level regions on the Chinese mainland.
According to an earlier statement from the ministry, there has been an ongoing problem with some rural tourist resorts in many protected areas discharging wastewater and solid waste without treatment into surrounding sources of drinking water.
It said on Tuesday that domestic and agricultural wastewater discharges and industrial companies operating in protected areas are among the culprits.
The ministry vowed to resort to media exposure and the circulation of notices of criticism to achieve its goal.
The State Council, China's Cabinet, published an action plan on environmental protection in areas surrounding drinking water sources in March.
"In recent years, China has made great achievements in environmental protection of areas supplying drinking water. The situation, however, remains grim," the ministry said, citing ongoing environmental risks and unclear boundaries of protected areas.