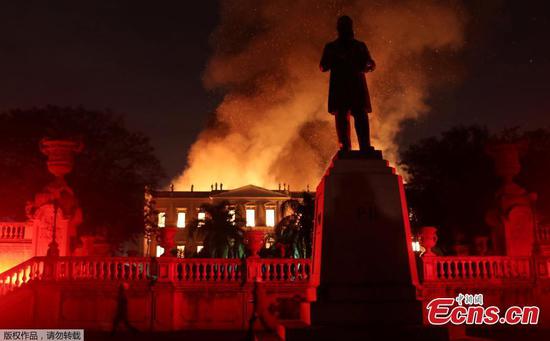 A massive fire raced through Brazil's 200-year-old National Museum in Rio de Janeiro, Brazil on September 2, 2018. (Photo/Agencies)
A Sunday night fire that consumed Brazil's National Museum in Rio de Janeiro might have been caused by a small paper hot air ballon that landed on the museum's roof, the country's Culture Minister Sergio Sa Leitao said on Monday.
Another possibility of the fire's origin could be an electrical short-circuit, Leitao said.
He called it an "immeasurable tragedy" and admitted that help combating the flames arrived too late.
"The National Museum was already closed, and the firefighting team had already left and there were only four guards on duty. The fire started in the rear, and it took the guards a while to detect the fire. When they did, it was already too late," Leitao said.
He added that an in-depth investigation into the fire's cause will be required.
A museum director is said to have seen a hot air ballon near the building, and that it could have fallen onto the rooftop. The other possibility is that a short-circuit in the audiovisual laboratory could have ignited the blaze.
According to Leitao, part of the stock located outside the museum was saved, but workers are still trying to determine what artifacts can be salvaged.
"It has to be said that part of the museum that remains in the botanical garden, the Central Library with nearly 500,000 volumes, part of the archeology collection and a part of the collection of vertebrates was preserved," he said.
The museum housed more than 20 million geological, paleontological, botanical, zoological and archaeological items as well as some of the most important specimens on the American continent.
Because of its partnership with the Federal University of Rio de Janeiro (UFRJ), it was an investigation and learning center.
It housed the largest collection of mummies in the Americas and also housed Luzia, the oldest human fossil found on the continent.
The museum was also home to the Maxakalisaurus topai skeleton, the largest dinosaur found in Brazil.