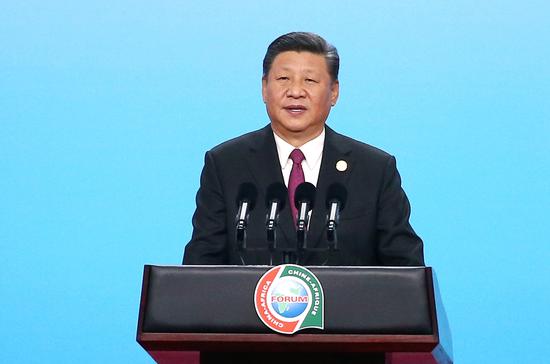 5b8dcaa4a310add1c69a0d60
Special: Forum on China Africa Cooperation 2018
President Xi Jinping underlined China's support for African countries to join in building the Belt and Road to achieve common prosperity.
Speaking at the High-Level Dialogue Between Chinese and African Leaders and Business Representatives on Monday, Xi said China stands ready to seek synergies with African countries to build a road of high-quality development suited to national conditions, inclusive and beneficial for all participants.
Xi said that African nations, as important participants, are at a historical and natural stage of the joint building of the Belt and Road.
On the basis of equality and win-win outcomes, China will uphold principles of extensive consultation, joint contributions and shared benefits to push forward connectivity in policy, infrastructure, trade and capital, and bring people closer to Africa, he said.
Xi said that three years ago, he proposed 10 cooperative plans to advance the joint development of China and Africa, and they have yielded fruitful outcomes.
Africa makes up more than one-sixth of the global population, and the realization of common prosperity is an important part of the building of a community with a shared future for mankind, he said.
China neither attaches political strings to its investment in Africa nor intervenes in the internal affairs of other countries, nor does it come up with demands that are against the will of others, Xi said.
China-Africa cooperation has targeted bottlenecks to Africa's development, such as inadequate infrastructure, and uses funds in places where they count most, he added.
Xi said China is willing to continue cooperation with Africa in areas including standards promotion, market access, training and customs based on win-win principles.
"China encourages and supports mutual investment between China and Africa, and does not seek a trade surplus. China is ready to create conditions conducive to expanding imports," he said.
Xi said he hopes entrepreneurs from China and Africa will seize new historic opportunities for innovation and make good use of modern technology. They should also observe social responsibilities, respect local culture and customs, and help bond the China-Africa friendship.
The dialogue was attended by around 1,000 representatives, including 35 African leaders.
Energized executives praise speech
Officials and business executives from home and abroad hailed the vision outlined by President Xi Jinping's speech at the High-Level Dialogue Between Chinese and African Leaders and Business Representatives on Monday, as it would inject new growth momentum into economic development on both sides.
A key take-away from Xi's speech is that he highlighted the importance of African countries adopting information technology to develop modern manufacturing, the internet and digital economies, said Sun Pishu, chairman and CEO of Inspur Group, a major Chinese server manufacturer.
"We will respond to President Xi's call for more efforts to deepen business activities in Africa, including building new cloud data centers in Ghana and Ethiopia soon," he said. "We will also bring our latest technologies, products and solutions to African economies."
Christopher Yaluma, Zambia's minister of commerce, trade and industry, said from Xi's speech, he sees synergies being unleashed between Africa and the Belt and Road Initiative, both of them aiming to forge stronger ties and enhance connectivity across countries.
"The tangible development of the Belt and Road Initiative and new business models will further promote economic ties between China and African nations, as more financial resources and manpower have been deployed in railways, port and airport development, trade, financial services and people-to-people exchanges," Yaluma said.
As to future development of the BRI, coordination mechanisms can be built on African regional, subregional and country levels, so that the Forum on China-Africa Cooperation can follow up more effectively, said Malam Sambu, Guinea-Bissau's ambassador to China.
Xi's visionary remarks embodied the principle of "extensive consultation, joint contributions and shared benefits" that can serve as a guide for business practices, said Lin Yichong, chairman of China Harbour Engineering Co.
Unlike some other Chinese construction companies-which focus only on engineering, procurement and construction projects-Lin said CHEC is well-positioned because it has already transferred its pillar business to new business models such as build-operate-transfer and public-private partnerships for both public and private sectors in Africa. In a build-operate-transfer model, companies usually receive a concession to finance, build and operate a project until the investment is recouped, then transfer it to a government entity.
In addition to its core business of marine engineering, dredging and reclamation, the Beijing-based group also is involved in building roads and bridges, railways and airports, and in working with equipment assembly and other engineering fields related to municipal, environmental and hydraulic services in over 30 African countries.
Xi put forward concrete plans to help Africa pursue quality urbanization and industrialization, such as job training programs and market access, which are prerequisites for economic and social development across Africa, said Hou Zhigang, chairman of China-Africa E-Commerce Co.
Hou said China's outbound direct investment will no longer just focus on Africa's infrastructure, energy, manufacturing and agriculture, Hou said.
Services-related investments in areas such as tourism, education and healthcare will become a priority and help cement business relations between China and Africa in the long run, he said.