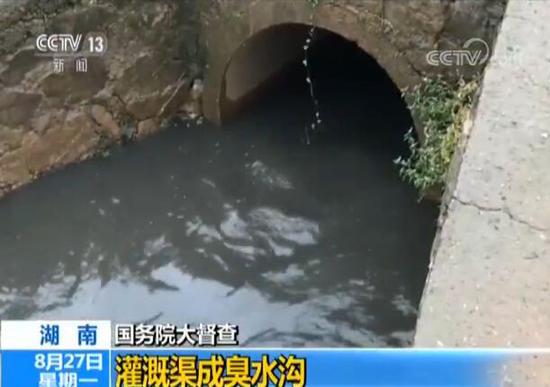 The polluted water in Zhuzhou, Hunan Province. (Photo/CCTV)
The country's top environmental authority has dispatched an inspection team to Zhuzhou, Hunan Province, to look into suspected fake data at an automatic water monitoring station.
According to the Ministry of Ecology and Environment, the monitoring sensors at the station had been placed in bottles of drinking water rather in the Lujiang River, which the sensors were supposed to monitor.
"Based on what we've seen on the monitoring site, we have reason to suspect that the station was falsifying data," inspector Zhou Changhai was quoted as saying by China Central Television.
False readings were found first by a team sent by the State Council as part of a broad national inspection campaign. Even when the detectors did find abnormal water quality, the station failed to collect samples and take other appropriate measures, the inspectors said.
"We will seriously punish the violations," the ministry said in a statement.
The ministry said it attaches great importance to the monitoring and reiterated its "zero tolerance" stance on data falsification.
"Once found, every case related to data falsification will be investigated, punished and made public. No matter who is involved, the investigation will be in-depth and thorough, with no tolerance," the ministry said.
In addition to administrative punishments, those who break the law will be transferred to judicial bodies to be prosecuted under criminal statutes, it said.
The case came to light as China is building a nationwide system to monitor surface water.
Previously, surface water monitoring was managed by local authorities. The former ministry of environmental protection, whose duties are now part of the Ministry of Ecology and Environment, began to withdraw administrative authority for monitoring from local governments in 2017. One of the purposes of the reform is to prevent "improper conduct of local governments that interrupts the monitoring".
Currently, water quality monitoring is carried out at 2,050 sites across the country. There are plans to have an automatic monitoring station at most of those sites to provide timely updates on the internet.