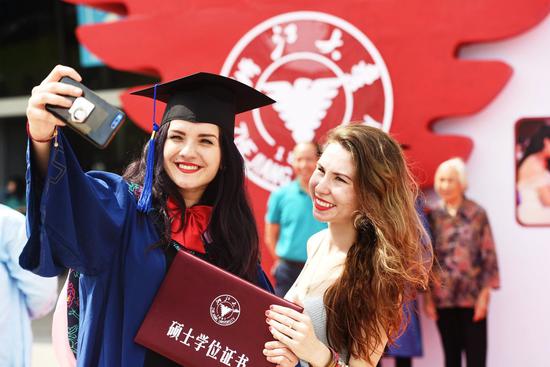 A foreign student takes a selfie at her graduation ceremony at Zhejiang University on June 28, 2018. (Photo/Xinhua)
Special: Forum on China Africa Cooperation 2018
President Xi Jinping has called on young people from China and Africa to continue to follow and proactively take part in the joint building of the Belt and Road and support China-Africa solidarity and cooperation.
Young people are the future of a country, and youths from China and Africa are the future of China-Africa friendship, Xi said on Tuesday in a letter replying to participants in the Youth Forum on Creativity and Heritage along the Silk Road.
Xi said that since its inception five years ago, the idea and vision of the Belt and Road Initiative have been translated into action and reality, yielding fruitful outcomes with the concerted efforts of various parties.
Such outcomes cannot be achieved without the positive response and enthusiastic participation of young people, he added.
The president encouraged youths from the two sides to step up cultural exchanges, forge a closer bond and contribute to the inheritance of traditional bilateral friendship among the 2.6 billion people of China and Africa.
They should also make their own contributions to the joint building of an even stronger China-Africa community with a shared future, and the building of a community with a shared future for mankind, he said.
Xi stressed that the joint building of the Belt and Road Initiative has provided strong impetus for China-Africa cooperation.
The president said he will talk with African leaders about China-Africa friendship and cooperation under new circumstances at the 2018 Beijing Summit of the Forum on China-Africa Cooperation, which will be held on Monday and Tuesday.
The Youth Forum on Creativity and Heritage along the Silk Road, which was held in May in Changsha, Hunan province, and Nanjing, Jiangsu province, attracted 73 youths from 51 countries.
On behalf of forum participants, Hanna Getachew of Ethiopia wrote to the president about their observations from the forum.
She added their perspectives and advice on the building of the Belt and Road, China-Africa cooperation and exchanges between youth of the two sides.
Getachew said in the letter that she has deep emotional attachments to China and Africa, and would like to help the two sides build bonds and narrow differences with her "limited knowledge and capacity".
She added that she thinks there is huge potential for China-Africa cooperation, and the BRI will be the main channel of sustainable development for the two sides during the new era.
Many other participants at the forum also expressed their positive outlooks on the BRI.
Yik Wai Chee of Malaysia said the initiative has united everyone to explore the building of a prosperous future. He also said China, as a powerful nation, can provide infinite opportunities for developing countries.