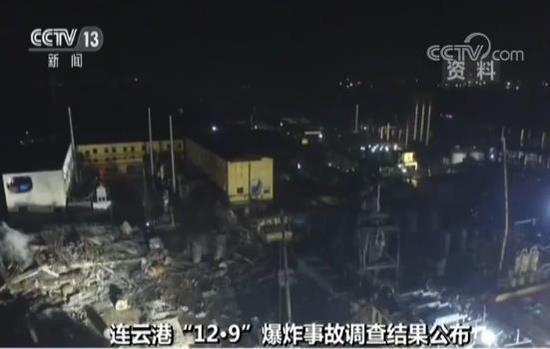 The explosion site in Lianyungang, Jiangsu province. (Photo/CCTV)
A biotech company in Lianyungang, Jiangsu province, where an explosion claimed 10 lives in December, has been fined 5 million yuan ($730,750). Its production permit will be revoked and its leaders will be prosecuted, the Ministry of Emergency Management said.
On Dec. 9, an equipment failure triggered the blast at Juxin Biotech in the city's Guannan county, killing 10 people and injuring one. The blast caused a direct economic loss of 48.7 million yuan.
The energy released by the blast was equivalent to 14.15 metric tons of TNT, according to the investigative report by the Jiangsu government.
The report said that 45 people and 10 companies were responsible for the blast, and that 13 people will be prosecuted criminally, including Wang Ruren, Juxin's production safety director.
The other people responsible will be given Party and administrative penalties, including Wu Aijun, director of the county's management committee for the affected chemical industry park.
According to the report, Juxin's failure to strictly follow proper safety procedures was the main reason for the blast. Other companies also failed to perform their duties in design, safety assessment, equipment installation and inspection on acceptance, and they will be closed, downgraded or fined.
The local government of Guannan and its management committee for the chemical industry park did not pay enough attention to safety and should be held responsible, it said. The government departments in charge of safety supervision and project management also failed to perform their duties, it said.
Yu Qigang, chief supervisor of the dangerous chemicals department of the county's Bureau of Work Safety, said that the bureau has organized chemical experts to scrutinize all the chemical companies in Guannan.
"All the companies that have major safety risks have been suspended and will not start production until those risks are eliminated. We'll follow all safety production requirements made by the province and the city."
"The bureau will supervise the installation and operation of safety equipment at all chemical companies," he said. "Those failing to meet safety production requirements will be closed permanently."