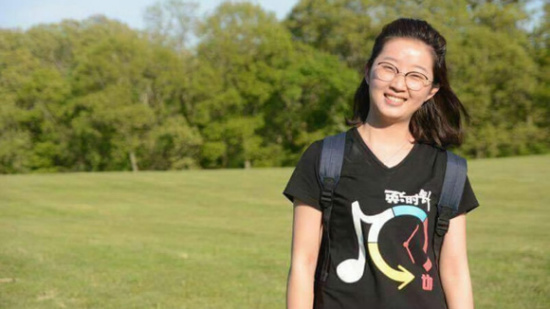 File photo of Zhang Yingying.
A small memorial garden will be built near the spot where missing Chinese scholar Zhang Yingying was last seen in the Midwestern U.S. state of Illinois.
Zhang Yingying, a visiting Chinese scholar at the University of Illinois at Urbana-Champaign (UIUC), was kidnapped at a bus stop near the campus and missing on June 9 last year.
The memorial garden, now a 600-square-foot section of grass is near the bus stop where Zhang waited before getting into a car driven by her suspected kidnapper.
According to local media News Gazette, the work will began on Friday and is expected to be completed next month. The construction and design will be fulfilled by Champaign County Master Gardeners at the suggestion of Zhang's friends and the Chinese Students and Scholars Association.
Miao Guofang, a friend of Zhang who helped launch the project, said she's happy with the design and expressed gratitude for the master gardeners and Illinois Extension.
"We just proposed the idea: We want to build a memorial garden. They did all the rest," she said. "This is really nice."
The garden will feature a path leading to a bench, surrounded by greenery and white flowering plants, and is designed to have "beauty and functionality," according to the proposal from Illinois Extension.
The project will be funded by UIUC, where Zhang worked as a visiting scholar.
Though she was at the university for only a few weeks, Ms. Zhang was already a "treasured member of the ACES family," said Kim Kidwell, dean of College of Agricultural, Consumer and Environmental Sciences (ACES).
Brendt Christensen is accused in the kidnapping and killing of Zhang.
The trial for Christensen is set for April 2, 2019. He will face the death penalty if found guilty of kidnapping resulting in death.