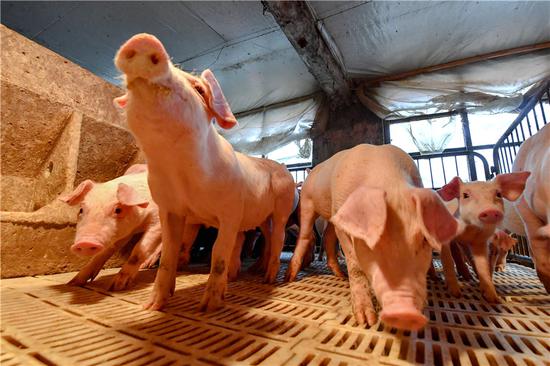 Piglets are held in pens at a modern pig farm in Beijing on April 30. (Photo by Wu Bo/For China Daily)
China is investigating the origins of three recent African swine flu outbreaks to determinate whether they are linked, the Ministry of Agriculture and Rural Affairs said on Monday.
The ministry said it will share the information with the public when it is available.
The latest outbreak occurred at a pig farm in Lianyungang, Jiangsu province, with 615 pigs infected, leading to the loss of 88 animals as of Sunday, the ministry said in a statement on Sunday.
Local authorities have responded to the emergency with quarantine measures to prevent the disease from spreading, the ministry said, adding that the outbreak is under control.
On Aug 14, a pork processing company in Zhengzhou, Henan province, was hit by African swine fever. All 30 infected animals died.
On Aug 1, an outbreak occurred at a pig farm in Shenyang, Liaoning province, leading to the loss of 47 hogs. It was the first African fever outbreak in China, the ministry said.
Zhu Zengyong, an agriculture analyst at the Chinese Academy of Agricultural Sciences, said the three cases may be related, with cross-infection occurring during transportation of live pigs.
"The spread of the disease may have occurred during the transportation of live pigs from Northeast China, where the first African swine fever outbreak was identified, to Henan and Jiangsu provinces," Zhu said. "The outbreaks have caused a temporary decrease in the price of pork in many places in China, with many pig farmers anxious to sell," he said.
The best way to control the disease is to slaughter any pig suspected of the disease, as there is no effective vaccine to prevent the disease, he said.
"The disease can bring serious consequences to China's pork industry if not properly controlled," he said.
Unlike bird flu, the disease is not transmittable to humans, he said.
African swine fever, which spreads solely among pigs, is fatal, according to the Ministry of Agriculture and Rural Affairs.
China is the world's largest producer and consumer of pork, accounting for more than 60 percent of China's meat consumption, the ministry said.