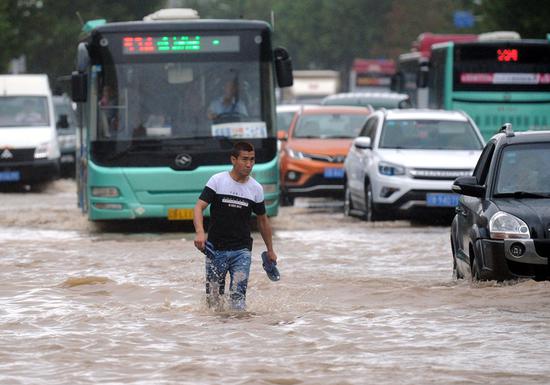 A man walks through a flooded street in Dalian, Liaoning Province, on Monday. Typhoon Rumbia brought torrential rains and caused severe flooding in the city. (LYU WENZHENG/FOR CHINA DAILY)
Record levels of precipitation widely reported in many regions
Weather authorities issued fresh warnings on Monday, advising residents to brace for heavy rain and strong winds as a weakened Typhoon Rumbia heads toward northeastern China.
The violent storm, which has claimed at least 16 lives since making landfall in Shanghai's Pudong New Area on Friday, was downgraded on Monday after losing strength.
However, the National Metrological Center has renewed its yellow alert - the second-lowest level in a four-tier warning system - with downpours and winds expected in Shandong province, areas of the northeast, the Bohai Sea and the Yellow Sea.
Rumbia, the 18th typhoon of the year, dumped up to 52 centimeters of rain on parts of Henan, Shandong, Anhui and Jiangsu provinces between Thursday and 9 am on Sunday, the center said, adding that 15 counties reported record levels of daily precipitation. Half of Anhui's territory received rainfall of more than 10 centimeters, it said.
The extreme weather conditions have resulted in deaths and injuries and caused economic losses as the storm has wreaked havoc across central and eastern China.
Seven people were reported dead and at least 18 others injured when Xuzhou, Jiangsu, was hit. More than 1,800 houses had been damaged as of 2 pm on Sunday.
In Shandong province, the typhoon claimed six lives and left 15 missing from Sunday to 5 pm Monday. About 110,000 people were evacuated in the province.
In neighboring Anhui, Rumbia left at least one person dead and 13 injured. More than 4,000 houses were damaged. The direct economic losses caused by the storm was estimated to be over 1.1 billion yuan ($160 million) in the province.
Rainstorms also battered the eastern and northern parts of Henan between Friday morning and Sunday morning, leaving two dead and causing direct economic losses of almost 1.4 billion yuan.
The Ministry of Emergency Management said it had dispatched 2,478 vehicles and 4,587 workers to help rescue 1,400 people and evacuate 4,300 residents as of Monday morning.
The ministry held a video conference on Sunday night with fire and rescue authorities from 10 provinces, including Anhui, Henan and Gansu provinces, asking them to prepare well to ensure people's lives as Rumbia affects their regions.
Dong Lin, a senior engineer at the National Meteorological Center, said the country has been stricken by more typhoons this year, many of which have lasted a long time rather than dissipating - bringing strong winds and rain as Rumbia has - even though they landed with fairly low intensity.
"Special attention needs to be paid to prevent geographical disasters when such typhoons occur," she said.
The China Meteorological Administration and the Ministry of Water Resources have jointly issued an alert for mountain flooding in Liaoning, Gansu and Qinghai provinces. An alert was also issued jointly with the Ministry of Natural Resources for geological disasters triggered by downpours in some areas in Liaoning and Shandong provinces.
The meteorologists also warn of the increasing flood risk in urban areas and in some small and medium-sized rivers in Liaoning and Shandong.