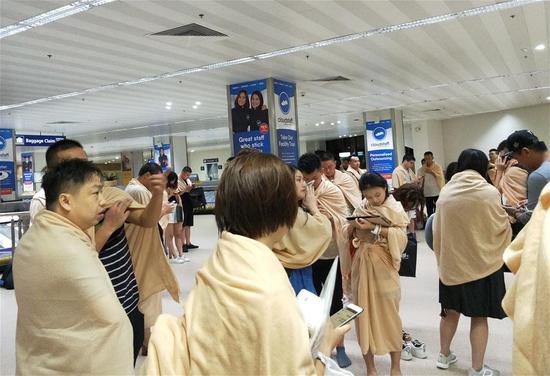 Photo taken on Aug. 17, 2018 shows passengers waiting at the Manila international airport after the plane crash-landed, in Manila, the Philippines. A Boeing 737-800 passenger plane of China's Xiamen Airlines landed on its belly early Friday at the Manila international airport, an airport official said. (Xinhua)
A passenger plane from China's Xiamen Airlines skidded off the runway and onto grass when it landed at the Manila international airport early Friday.
A source at the Ninoy Aquino International Airport (NAIA) told Xinhua that the Boeing 737-800 plane landed at around 12:05 a.m. Friday local time (1605 GMT Thursday) when the accident occurred.
Another source said the MF8667 flight from Xiamen circled Manila for about an hour before landing.
The aircraft's wings and engines were heavily damaged as a result of the accident, according to the source.
The source added the plane apparently missed the runway's center line when it landed, making it swerve to the grass safety area.
So far no casualties have been reported.
The source said it was raining hard when the plane landed and speculated that strong crosswinds and poor visibility might have caused the accident.
The NAIA authorities have yet to issue an official statement of the accident.
"An emergency evacuation is ongoing," the source said, adding that some of barefoot passengers were seen around the damaged plane shortly after the bad landing.
The airport's emergency personnel have set up tents around the accident area, the source said.
The airport will remain open because the other runway can still be used, according to the source.