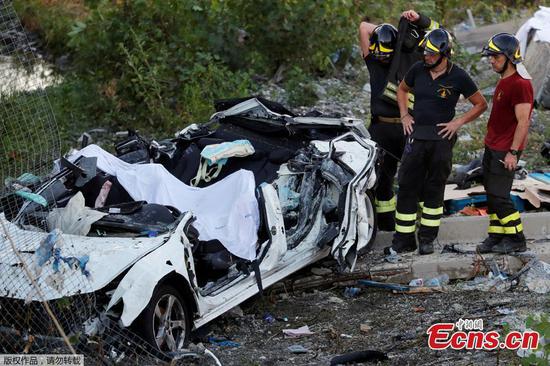 Firefighters stand next to a crushed car at the collapsed Morandi Bridge site in the port city of Genoa, Italy August 14, 2018. (Photo/Agencies)
As the toll in the deadly bridge collapse in Italy's northwestern city of Genoa reportedly reached 35 and rescue workers frantically searched in the debris for survivors, the chance of finding more people alive looked slim.
Bloomberg reported the toll had reached 35. It could rise further in the following days, police and Red Cross officials told Xinhua.
Genoa police cordoned off peripheral areas and blocked the roads to the Morandi bridge, which connects the west of Genoa to the east. Some 300 firefighters were at work with 92 rescue vehicles. Search dog units were also pressed into service to look for survivors.
Police officers on the spot, speaking on the condition of anonymity, told Xinhua there were still cars and trucks under the rubble and it would take several days more to clear the site.
Several hundred meters away, Marco Parodi, an Italian Red Cross official in the rescue effort, told Xinhua a special corps has been searching for survivors or bodies, but the rubble pile was so huge that the chance of finding survivors was slender.
An emergency plan had been made to evacuate 440 people living in 11 buildings around the area for safety reasons.
The bridge collapsed shortly before noon on Tuesday while some 30 cars and 5 heavy trucks were passing through. The city was under heavy rain at that time, which hampered the first rescue operations.
The 1,182-m-long bridge was built between 1963 and 1967.
Genoa Mayor Marco Bucci declared two days of mourning, on Aug. 15-16.
The city's chief prosecutor Francesco Cozzi said a criminal probe will be launched for culpable manslaughter and culpable disaster -- so far against a person or persons unknown -- to ascertain whether the collapse was due to negligence, Ansa news agency reported.