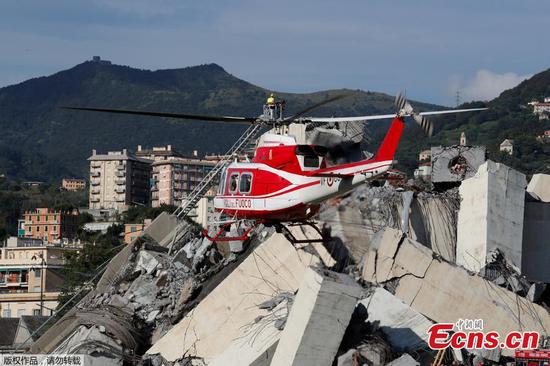 Firefighters and rescue workers deploy a ladder at the collapsed Morandi Bridge in the port city of Genoa, Italy August 14, 2018. (Photo/Agencies)
(ECNS) - There have been no reports of Chinese nationals killed or injured in a bridge collapse in Italy's northwest city of Genoa, where the death toll has risen to 35.
A 50-metre-high section of the bridge, including a tower that anchored several stays, crashed down in torrential rain with as many as 35 vehicles driving on it.
Some 15 people were injured, of which nine are still critical, while another ten people remain missing, authorities said.
Zhao Changqin, honorary chairperson of the Chinese industry and commerce association in Genoa, said there were no Chinese casualties identified yet.
Known as Morandi Bridge, the motorway viaduct was built between 1963 and 1967.