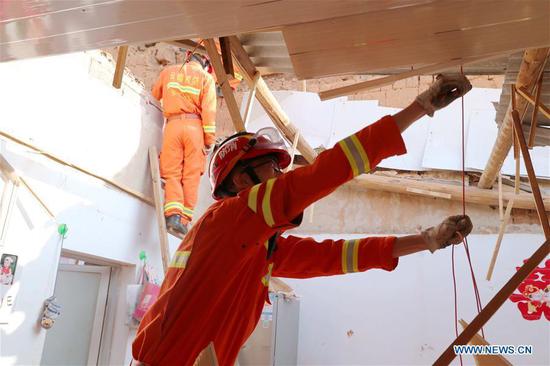 A rescuer works at a damaged house in Tonghai County, southwest China's Yunnan Province, Aug. 13, 2018. (Xinhua/Wang Anhaowei)
A total of 24 people have been injured in two 5.0-magnitude earthquakes that jolted southwest China's Yunnan Province in the early hours of Monday and Tuesday seperately, local authorities said.
The epicenter of the latest quake, with a depth of 6 km, was monitored in Sijie Township, Tonghai County, at 3:50 a.m. Tuesday, according to the China Earthquake Networks Center. The previous earthquake hit the township at 1:44 a.m. on Monday.
As of 11:30 a.m., nearly 70,000 residents were affected by the two earthquakes, according to the provincial civil affairs department. More than 33,000 residents have been evacuated to safe places. The quakes also caused damages to over 8,000 houses in the areas.
"We have been at an emergency shelter since Monday as we fear for more quakes. In the morning, the new quake was so strong that we were all woken up," said Zhu Feng, a resident living in a government-run emergency shelter in Tonghai County.
The provincial earthquake administration launched an emergency response on Monday. Investigation teams have been established and sent to the affected areas.
The provincial civil affairs department has sent tents, folding beds, bedding, and food for affected residents.