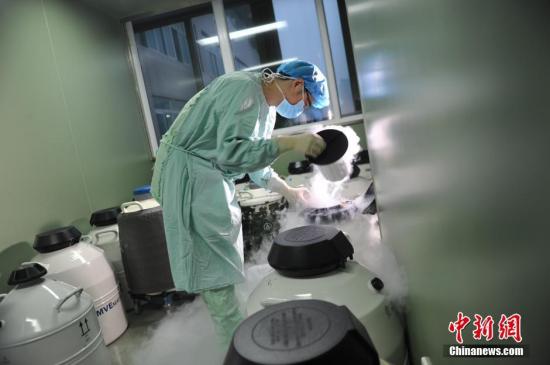 Embryos are kept in liquid nitrogen tanks in West China Second University Hospital in Southwest China's Sichuan Province, June 14, 2016. (Photo/China News Service)
Thirty years after the first test tube baby was born in China, assisted reproduction centers face a dilemma: how to deal with leftover embryos, Science and Technology Daily reported.
As a country where the number of test tube babies ranks on top of the world, up to 200,000 babies are born via in-vitro fertilization (IVF) every year.
For every IVF cycle, the hospital cultivates several embryos, implants two into the uterus, and the rest are frozen in liquid ammonia tanks in the hospital.
Hospitals sign contracts with patients about the leftover embryos, which usually state that hospitals will keep the leftover embryos for some time (for example, six months), and if the patients don't have further requirements, hospitals can discard the frozen embryos after the period.
Many patients lost contact with hospitals, so the leftover embryos become ownerless embryos.
"Hospitals seldom discard embryos," said Yu Qi, head of endocrine and reproductive gynecology center with Peking Union Medical College Hospital. "From doctors' point of view, embryos have the possibility of growing into a baby, so we don't want to destroy them."
If hospitals keep the embryos, there aren't enough room for the liquid nitrogen tanks. Cost is also a big problem. Freezing an embryo costs 1,000 to 3,000 yuan every year. Nobody pays the bill except hospitals for the ownerless embryos.
Data shows that the number of frozen embryos passed 10,000 several years ago in some city, of which 60 percent are ownerless.
"The law doesn't make clear whether embryos are human being or not. Though the hospital has signed contract with patients about discarding leftover embryos, it can face serious consequences if the law defines embryos as human being one day," said Yu.
"As long as the contract is signed based on two sides' true intentions, hospitals don't have to bear legal liability if they follow the contract," said Zhu Hu, associate professor with law school of Remin University of China.
But Zhu believes the current contracts are too simple because many circumstances were not included in the contracts. For example, what if the couple divorces or one spouse dies, or the spouses have different opinion on how to deal with leftover embryos.
The best way is for the medical and law industries to co-produce a thorough contract model and hospitals do some adjustments due to their situation, said Zhu.