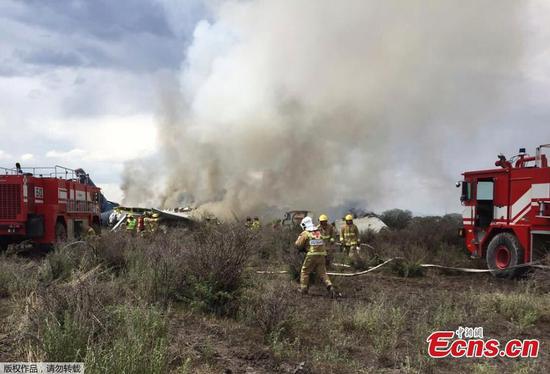 Photo taken with a mobile phone and provided by Durango's Civil Protection Department shows rescuers working on the site where a plane crashed in Durango, Mexico, on July 31, 2018. An Aeromexico plane crashed in the northern Mexican state of Durango, local media reported on Tuesday. (Photo/Agencies)
The Aeromexico airliner was hit by a gust of wind shortly after it took off, losing speed and crashing down on the ground, a Mexican governor said on late Tuesday.
At least 85 people, among all 103 passengers and crew members, were injured in the accident in the north central state of Durango Tuesday afternoon.
The Embraer 190 aircraft, which was operating between Durango and Mexico City, crashed on the ground in a horizontal position, Durango Governor Jose Aispuro said at a press conference.
Everyone managed to exit the plane before it became engulfed in flames, he added.
According to preliminary reports from the police authorities and Aeromexico airline, there were no Chinese citizens on board.
Aispuro confirmed earlier via Twitter that all people on board survived, while the pilot was hospitalized in serious but stable condition.
"It was raining, there was a storm. I think they wanted to abort, but weren't able to fall on the runway. It fell farther ahead where the paved runway ends and that caused the fire that seriously damaged the plane," Aispuro said.
The federal government said earlier that there were 101 people on the plane, with 97 passengers and four crew. Two infants were not included in the first tally.
Dozens of people were sent to hospitals, most of them for very light injuries.
The aircraft, with flight number AM2431, was delivered in May 2018, Embraer said late Tuesday in a statement. The world's third largest civil aircraft producer had sent a team of technicians to the scene of the crash to support the investigation.
The North-Central Airport Group (OMA), operator of the Guadalupe Victoria airport, also blamed poor weather conditions for the crash.
The airport was closed after the accident.
Embraer is a Brazilian aerospace conglomerate that produces commercial, military, executive and agricultural aircraft and provides aeronautical services.