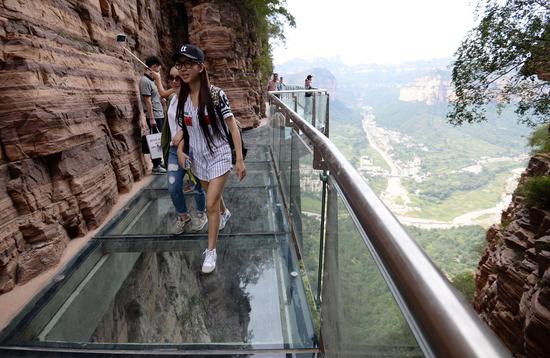 Tourists experience a glass walkway in a scenic area in Handan, Hebei Province, in September. (Photo by HAO QUNYING/FOR CHINA DAILY)
A technical standard for glass walkways at scenic spots has recently been released in Hebei Province to better ensure the safety of tourists.
Approved by the Hebei Department of Housing and Urban-Rural Development, the technical standards will take effect on Aug 1. Pedestrian volume per square meter of glass will be limited.
"Generally, the number of tourists allowed on a glass walkway is far less than the design limit," said Li Yunsheng, an engineering teacher at Shijiazhuang Tiedao University, who helped draft the standards.
More scenic spots nationwide have added glass-floored walkways in recent years to attract tourists, such as a 430-meter-long glass bridge in Zhangjiajie Grand Canyon in Hunan Province and a 95-meter-long glass walk on a cliff at Mount Baishishan scenic spot in Baoding, Hebei.
The breathtaking experience while walking on glass high above the ground is a major feature that attracts tourists and fuels the booming popularity of the structures.
Netizens often share short videos on the internet in which a tourist shows a mixture of fear and excitement while on such a bridge.
"The aim is to provide a formal standard for all glass walkways in Hebei to better ensure safety," Li said.
According to a report by hebnews.cn, a local news website in Hebei, the province is the first one in China to have rolled out such standard. It provides specific guidelines for location, materials, design, construction, inspection and management.
A glass walkway should be built where the surrounding environment is good, and areas with high seismic activity should be avoided, the standard said.
Guardrails along the edges of glass walkways should be strong and reliable, and additional protective equipment should be installed in potentially dangerous sections, it added. The walkways should be closed when the weather or ground conditions are bad, including times of typhoons, heavy rains, thunderstorms or mountain torrents.
All scenic spots that have one or more glass walkways are required to strictly abide by the standards.