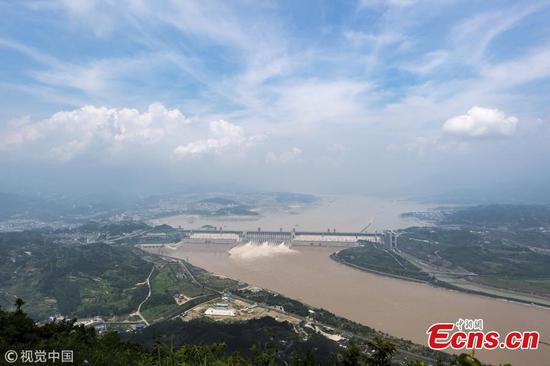 Water gushes out of the Three Gorges Dam in Yichang City, Central China's Hubei Province. On July 14, the Three Gorges Reservoir will receive a massive 60, 000 cubic meters of water a second due to heavy rain in the upper reaches of the Yangtze River. Authorities have issued a flood alert in several provinces along the river. (Photo/VCG)
On top of the 185-meter high dam of the world's largest hydroelectric project, endangered plants are having a field day.
The Three Gorges area on the Yangtze River, in central China's Hubei Province, is home to many rare and endemic plants.
Due to the rising water level in the reservoir and increasing human activity, many of species were under threat. To mitigate the effect on the environment, China Three Gorges Corporation has invested nearly 100 million yuan (14.8 million U.S. dollars) since 2007 to establish a rare plant research institute.
The institute has two research bases that cover nearly 700,000 square meters, including two research buildings, six nurseries and six intelligent greenhouses, according to Huang Guiyun, an engineer at the institute.
Thanks to their efforts, over 18,000 plants belonging to 436 species have been transplanted to the bases. Myricaria laxiflora and Adiantum reniforme, two endemic plants that were once completely submerged, have been saved. About 22,000 plants of the two species are growing in the base.
"All the rare plants that were once affected by the Three Gorges project have been saved," Huang said.
By the end of 2020, the institute will expand the number of protected species to 1,000, and gradually replace the current common green plants with rare and endemic ones in the 12.8-square-km dam area.
"Visitors to the Three Gorges will not only have a glimpse of the spectacular dam, but also have an unforgettable tour of the botanical garden," Huang said.