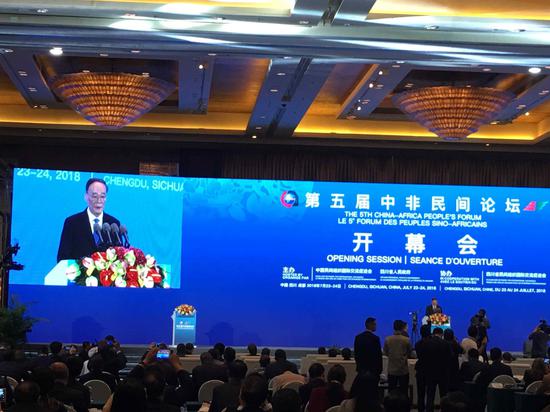 Chinese Vice President Wang Qishan delivers a keynote speech during the opening ceremony of the forum. /CGTN Photo
Special: Xi Visits Five Arab and African Countries, Attends BRICS Summit
Chinese President Xi Jinping sent a congratulatory letter to the fifth China-Africa People's Forum (CAPF), which opened in the city of Chengdu, in southwest China's Sichuan Province, on Monday morning.
Xi hailed the forum as an important bridge between the Chinese and African people, which has played an active role in promoting people-to-people exchanges between the two sides over the past years.
"The friendship between the peoples constitutes the cornerstone of state-to-state relations, which is also a key area for future development of China-Africa relations," Xi said in the letter.
China will host the Beijing Summit of the Forum on China-Africa Cooperation. Xi said the forum, under the theme of "pooling strength from the people for stronger China-Africa friendship and mutual trust," is certain to greatly promote people-to-people exchanges and mutual cooperation between the two sides.
The president said he hopes the forum provides an opportunity for all the participants to build consensus by sharing their ideas and experiences, to contribute their insights and suggestions on people-to-people cooperation between China and Africa, so as to "inject fresh vitality and garner strong support for the building of an even closer community with a shared destiny between China and Africa."