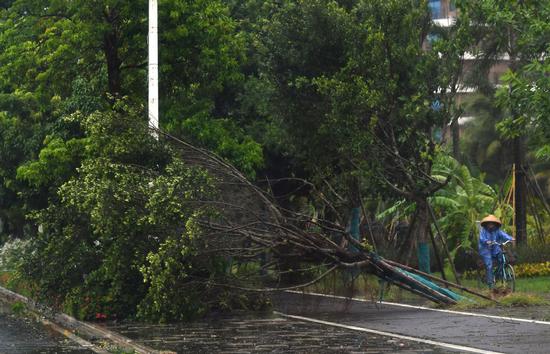 A bicyclist passes a fallen tree in Qionghai, Hainan province, on Wednesday. Typhoon Son-Tinh made landfall on the island province at around 4:50 am that day. (Photo/Xinhua)
President says planning, warnings crucial during typhoon, flood season
President Xi Jinping has called for all-out efforts in disaster relief to minimize casualties and damage during a season of typhoons and frequent floods.
Xi, also general secretary of the Communist Party of China Central Committee, said in an instruction that Party committees and governments in related areas should firmly adopt the people-centered approach, step up emergency responses, perform their job responsibilities, make more detailed contingency plans and ensure disasters can be handled in a timely way.
Monitoring and early warnings in meteorology, flooding and geological disasters should be reinforced, and disaster prevention at key hazard areas must be prioritized, he said.
He also urged screening for dangers across the board and strict prevention of disasters and secondary effects.
Government departments such as the State Flood Control and Drought Relief Headquarters, the Ministry of Natural Resources and the Ministry of Emergency Response should coordinate forces and resources and guide the relief efforts of local areas to ensure the safety of the people's lives and property and social stability, he said.
Floods triggered by torrential rainstorms this year had hit more than 27 provincial areas, leaving 54 people dead and another eight missing as of Wednesday. They also have affected 205.3 million people and resulted in direct economic losses of 51.6 billion yuan ($7.6 billion), according to Xinhua News Agency.