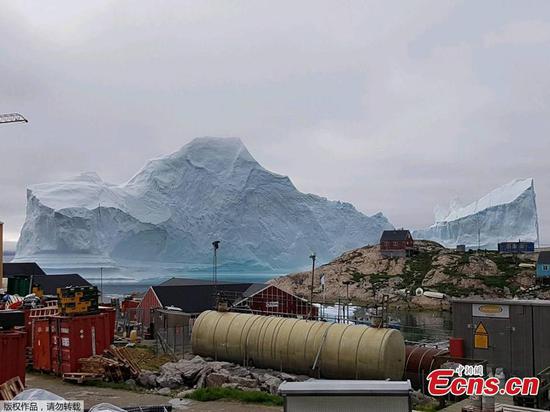 Photo taken on July 13, 2018 shows an iceberg floats near the Innaarsuit settlement, Greenland. (Photo/Agencies)
A 100-meter high iceberg has threatened a tiny settlement in Greenland, prompting a partial evacuation of its residents for fear of tsunami, local media reported.
The Innaarsuit island settlement on Greenland's west coast has been advised of the danger of the iceberg calving, with a search-and-rescue helicopter deployed now close to the community.
Icebergs are not an unusual scene near the community. "But this iceberg is the biggest we have seen... and there are cracks and holes that make us fear it can calve anytime," said Susanne Eliassen, a local council member.
In a recent time-lapse video by New York University scientists, a massive iceberg is seen breaking free from the Helheim Glacier on East Greenland, resulting in 3 percent of the annual ice loss of the world's largest island in just 30 minutes.
Researchers have warned of an increasing occurrence of icebergs as well as the accompanying tsunami hazards as climate change casts its sway on the island. Last year, a tsunami caused by a landslide on another island settlement killed four and injured 11.