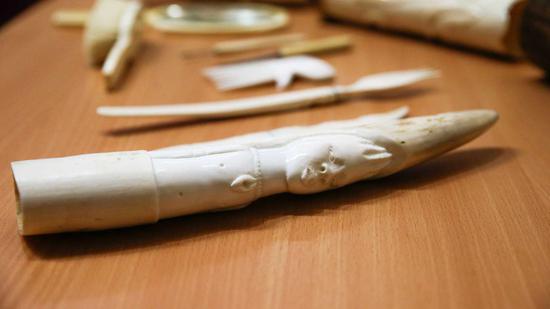 In this file photo taken on July 4, 2018 Artifacts made of ivory are displayed by the Belgian Health Ministry under "Sors tes dents!" (Show your teeth) awareness campaign to curb illegal ivory trade.
An investigation has found rampant sales of illegal ivory in 10 European Union countries, dampening global effort to end poaching of elephants.
Avaaz, a campaign organization, brought 109 ivory pieces from various European markets. For ascertaining the age, items were sent for radiocarbon dating at the University of Oxford laboratory.
Investigators found three quarters or 74.3 percent of ivory tested to be fake antique ivory sold illegally. More than one-fifth of the pieces labeled as antiques were made of ivory from elephants killed after 1990. Another three-quarters of ivory items dated to after 1947.
Trade of ivory pieces procured after 1990, also known as post-convention ivory is banned, and a government permit is required for items purchased from 1947 to 1990. In the EU, there is no restriction on the trade of worked ivory pieces purchased before 1947.
Wildlife product traders exploit the loophole of post-convention ivory as it's difficult to ascertain the age of finished ivory items. Even radiocarbon dating, an expensive and time-consuming method, is used to determine the age of seized ivory pieces.
"This bombshell evidence proves beyond doubt that illegal ivory is being sold across Europe," said Bert Wander Avaaz campaign director. "It must spark the end of this bloody trade. Every day the sale of these trinkets continues is a day closer to wiping out majestic elephants forever," he added.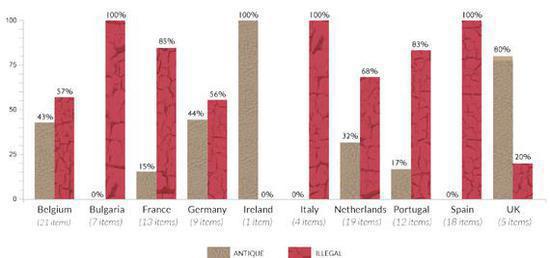 Countries wise break-up of illegal ivory found in Avaaz investigation. /Avaaz Graphics
Avaaz investigation exposes how illegal ivory trade flourishes because of a legal loophole. The findings come at a time when the domestic trade of ivory has been banned in the US and China, as well as China's Hong Kong Special Administrative Region (HKSAR) and east China's island region Taiwan.
The UK announced, one of the toughest ivory bans in the world, and Australia has formed a parliamentary committee to study whether domestic ivory trade leads to poaching of African elephants or not.
Despite a growing consensus on the ivory ban, "Europe remains a significant exporter of legal worked ivory, mainly to big Asian markets where demand for ivory is fueling the poaching crisis in Africa," a report maintained.
Investigators purchased ivory items from Belgium, Bulgaria, France, Germany, Ireland, Italy, the Netherlands, Portugal, Spain and the UK.
According to WWF, WildAid, and TRAFFIC, nearly 20,000 African elephants are poached for ivory every year. Governments in the EU are under intense pressure to enact an effective law to curb the trade.
The European Commission should close the antique ivory loophole, end ivory exports from Europe, and shut down the EU's internal trade in raw tusks, Avaaz report suggested. "This is the only way it can preserve its status as a leader in fighting the wildlife trade and protecting African elephants."