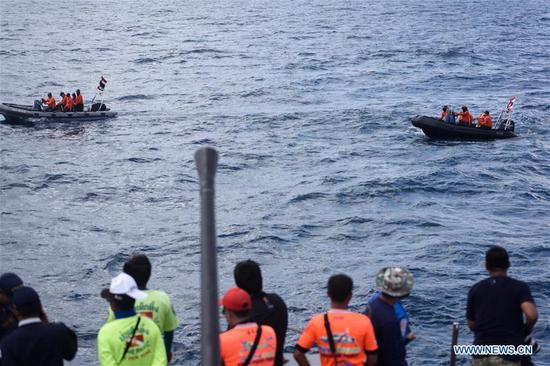 Members of Thai rescue team search for missing passengers from the capsized boat in the accident area in Phuket, Thailand, July 8, 2018. (Xinhua/Qin Qing)
Special: Thai Boat Tragedy Rescue Operation
A total of 122 Chinese nationals were onboard when the accident happened. 75 of them have been rescued, and six others are still unaccounted for.
Forty-one bodies of the victims have been retrieved.
China's joint working group has been closely working with Thai authorities to run the search and rescue operation, said Hua Chunying, spokesperson of Chinese Ministry of Foreign Affairs during a press conference on Monday.
The operation won't stop until every passenger's location is verified, Hua added.
Thai Prime Minister Prayut Chan-o-cha visited Phuket and held a press conference to brief on the latest development regarding the boat accident.
Prayuth said that he would visit the injured tourists and families of the victims at the local hospital, and the Thai government will work together with China to deal with the current issue.