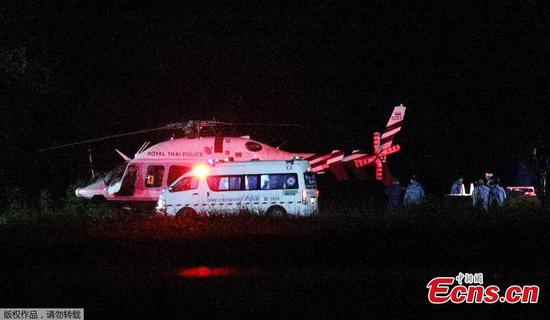 A Royal Thai Police helicopter carrying rescued schoolboys lands at a military airport in the northern province of Chiang Rai, Thailand, July 8, 2018. (Photo/Agencies)
Thailand's Phuket Provincial Governor Norraphat Plodthong said on Monday that 42 people were killed, five were missing and 42 passengers rescued in the capsizal accident of boat "Phoenix."
Forty-one bodies had been retrieved from the water and one body was pressed by the sunken wreckage of "Phoenix" to the seabed, he said. So far 37 bodies had been identified.
Local authorities originally listed 10 people missing, but Thai and Chinese authorities later found five missing passengers through their hotel check-in and check-out information, but the authorities have not been able to contact them yet.
The governor told Xinhua that four people did not board the boat so there were actually 89 passengers aboard, instead of the original 93 figure, when "Phoenix" and another tourist boat "Serenita" capsized in rough seas off the southern Thai resort island of Phuket on Thursday.
Vice Admiral Somnuk Preampramot, commander of the Royal Thai Navy's Third Area Command, said the search for the missings would continue on Monday and the rescue teams would attempt to retrieve the passenger body trapped in the "Phoenix" wreckage as well as salvage the wreckage.
Phuket police chief Major General Theerapol Thipcharoen said local police would continue its investigation into the owner companies of the two sunken boats.
He vowed to get to the bottom of the case in order to reveal the truth of the accident. At the same time, the police and other related authorities would learn a lesson from the accident to upgrade Thai maritime safety standards to the international level, he said.