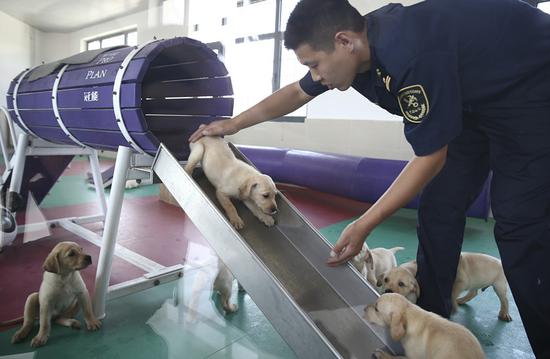 A trainer works with 5-week-old Labrador puppies at the General Administration of Customs' anti-smuggling dog base in Beijing on Thursday. (ZOU HONG/CHINA DAILY)
After four weeks of intense training, Dag, a 3-year-old German shepherd, was still a bit clumsy when he was put to the test to locate heroin hidden in one of 12 cardboard boxes on a hot summer day at the General Administration of Customs' training center for detector dogs in Beijing.
When he eventually found the drugs after twice going through the boxes, which had been punched with holes, he failed to sit down quietly-the correct signal to alert his handler."Dag still has a long way to go to become a qualified sniffer dog for China Customs," said Hou Qinglong, from Qingdao, Shandong province, a customs officer and the animal's handler.
The pair have to knuckle down for the next eight weeks if Dag is to pass the final exam to join the ranks of the "guardian of the borders", he added.
During the final exams, the cardboard boxes will be replaced with standard luggage and parcel packages with no holes.
Dag and five other German shepherd trainees will need to successfully detect heroin, cocaine, ketamine, marijuana and methamphetamine before they can be deployed to border ports.
"The demand for sniffer dogs, especially those that are relatively stronger and more aggressive at China's border areas, has been increasing significantly because smugglers have become more violent in recent years when they are confronted by border control officers," said Wei Jingwen, director of the center, which was established in 1993.
In some cases, the smugglers even beat up customs officials, Wei said. As a result, the center has imported 38 large dogs, including German shepherds, Malinois and Rottweilers, from Germany since the start of 2017.
Besides the center in Beijing, the administration runs sniffer dog training centers in Ruili, Yunnan province, and Shenzhen, Guangdong province.
"Of course, it takes longer for the handlers to bond with German shepherds than Labradors... No smuggler will be intimidated by cute Labradors, but I bet they will when Dag gets serious," Wei said.
Marina, a 7-year-old Labrador, is a veteran sniffer dog. She and handler Bai Lipeng have worked together at customs checkpoints at Beijing Capital International Airport and a nearby international logistics center for more than five years.
Currently, 24 dogs work for customs in Beijing. Besides detecting drugs, some are trained to find explosives, tobacco, bank notes and ivory.
Wei said they have started to train dogs to detect firearms and microchips of large quantities.
The test Dag failed was a piece of cake for Marina. As soon as she located the heroin, she sat by the box in complete silence and refused to take her eyes off it. As a reward, Bai threw her a rolled-up towel and played her favorite game, tug-of-war.
In 2013, Marina found more than 300 grams of heroin in a parcel at an international logistics center near Beijing Capital International Airport. As of May, Beijing Customs' sniffer dogs had prevented 270 kilograms of drugs from entering the country.
All handlers of the center give commands in English because the center provides trained dogs for customs of Asia-Pacific countries.
To honor drug detector dogs' service to the country, the center built a monument with a bronze statue of a German shepherd standing on top and facing the airport in 2017.
The gravestones of two Labradors that died in 2017-Manbo, 14, and Tag, 15-were put at the foot of the monument.
"We're so proud of the dogs, and I hope they feel the same way," Wei said as he looked at the gravestones.