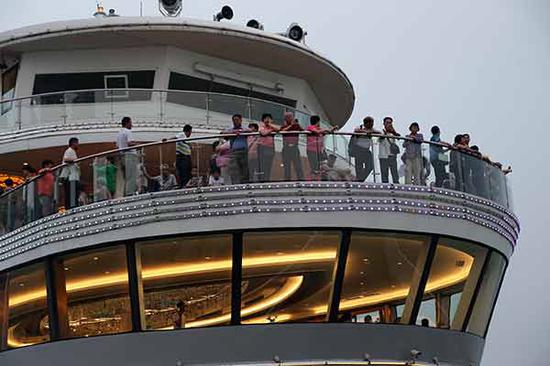 Tourists take in the sights as their cruiser navigates the Yangtze River. (Photo by Wang Zhuangfei/China Daily)
Rising demand boosts the sector after three years in the doldrums.
The gloom that has hung over the Yangtze River cruise industry since an accident in which more than 400 people died has finally been dispersed.
Experts say the revival of tourism on the world's third-longest river is the result of strengthened safety regulations for cruise operators and tougher environmental controls that were introduced in the wake of accident.
The Yangtze delta is home to nearly 400 million people and generates as much as 40 percent of national GDP. Tourism has long been one of the main drivers of the regional economy, as visitors flocked to view the stunning scenery, such as the Three Gorges, and enjoy cultural highlights.
Bookings plummet
The regional cruise industry was severely damaged in June 2015, when Eastern Star, a cruiser carrying more than 450 people, most of them seniors, capsized on a stretch of the river in Hubei province during a voyage from Nanjing, Jiangsu province, to Chongqing. Only 12 people survived.
"Cruise companies' revenues declined by nearly 30 percent in the months after the accident," said Zhu Ruming, deputy director of the Changjiang River Administration of Navigational Affairs, which is overseen by the Ministry of Transport.
"But the fallout was relatively short-lived. The cruise travel market gradually recovered in 2016, while there was a very positive public response in 2017."
According to the administration, nearly 750,000 people registered for cruises on the middle and lower reaches of the river last year, with more than 600,000 booking high-end trips that cost an average of 2,000 yuan ($312) per person. Revenue from ticket sales rose 15 percent year-on-year.
Wu Xuefeng, general manager of the business department at Lyumama, an online travel agency, has followed the sector's fortunes closely.
"In 2015, cruise travel was extremely popular. But after the accident, reservations for package tours on the Yangtze fell by 30 percent. However, things improved around the end of that year, and we also saw a dramatic increase in bookings last year, with a rise of more than 40 percent from 2016."
The first six months of this year saw a year-on-year rise of 30 percent in online reservations for cruises along the middle and lower reaches of the river, according to Lyumama.
The surge was confirmed by the China Youth Travel Service, but it said bookings rose by 12 percent in the first six months, compared with the same period last year.