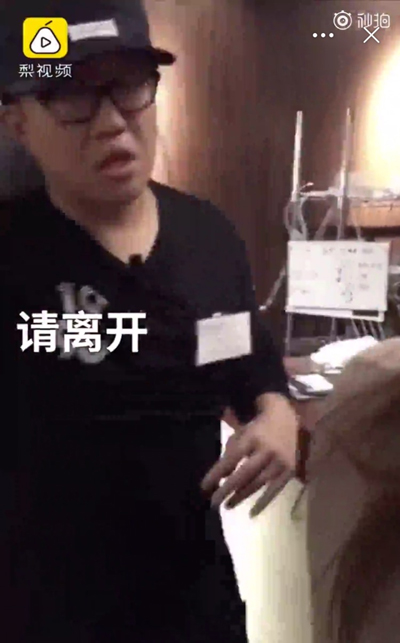 The restaurant manager asked two Chinese customers to leave. (Screenshot of Pear Video)
A controversial video featuring a Japanese restaurant manager kicking out two Chinese customers for "poor eating etiquettes" has stirred much debate on both Japanese and Chinese social media platforms.
Some Chinese media in Japan interviewed the restaurant last Friday, saying that the restaurant manager was not as angry as in the video. The manager said that he got angry because the customers filmed him and he hoped that Chinese customers could not discard rubbish everywhere when they dine at the restaurant.
The incident first came to light when a Weibo user @Liangjinghao-taoo posted a video on Chinese social media platform on June 3, saying that two Chinese customers was asked leave when they dined at a barbeque restaurant in Osaka, which drew wide attention of netizens.
In the video, the restaurant manager requested the two customers to leave, claiming that he had never seen such a disgusting way of eating and refused to take their money.
"You don't need to pay the bill. Please just leave. That's enough, I've never seen such a disgusting way of eating. It's such a mess," said the restaurant manager in the video.
In a screenshot of the WeChat conversation posted by the Weibo user who posted the video, one of the customers complained that they were under discrimination by the Japanese waiters and were treated differently compared with Japanese customers since they were Chinese.
The woman said that the manager suddenly got angry and asked them to leave because she filmed the scene using her mobile phone.
However, the restaurant held a different perspective on this issue. The restaurant told Fuji Television Network, a Japan-based Television that the two customers ordered a two-hour option buffet and stayed at the table beyond the time limit. They also discarded the shrimp shells all over the floor, which irritated the manager and staffs.
After the controversial video went viral on Chinese social media, it aroused netizens' curiosity of how bad the two customers behaved and also triggered a heated debate among netizens, with over 5,000 comments below the post.
"When you dine at a restaurant, how can you make sure that you eat as elegant as a noble in the TV series? The restaurant has the responsibility to serve all kinds of customers. If the restaurant complaint about such a small issue, it shouldn't be opened to the public," said a Weibo user @YueDuDaRen.
"Please don't blame that you are Chinese when you behaved in such a bad manner in the foreign countries. Nobody will discriminate against you as a Chinese even if you dine at a Michelin restaurant,"commented a Weibo user @Coconu7.
As Chinese people's living standards were greatly improved in recent years, a growing number of Chinese people preferred to travel abroad, in which Japan, benefitted for its closer geographical location to China, was one of the hottest tourism destinations for Chinese tourists.
In order to tackle with the potential bad manners of Chinese tourists, China National Tourism Administration (NTA) had released a Guidebook for Civilized Tourism in 2013 with illustrations that laid out a series of dos and don'ts when traveling abroad to raise the awareness of Chinese tourists about manners and build a good image of Chinese tourists.