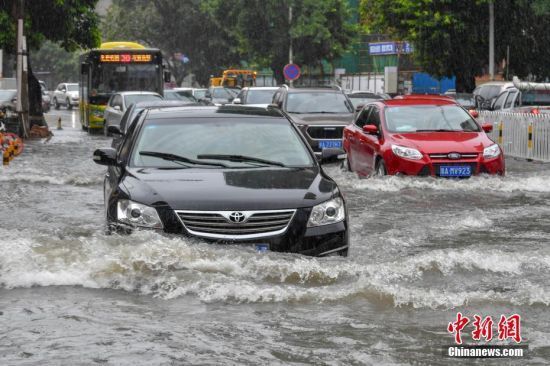 Vehicles run on a flooded street in Haikou, south China's Hainan Province, on June 6, 2018. (Photo: China News Service/Luo Yunfei)
Typhoon Ewiniar, the fourth typhoon of the year, made a second landfall in south China's Hainan Province Wednesday afternoon, after landing in neighboring Guangdong Province Wednesday morning.
The typhoon made a second landfall on Changliu Town in Haikou, capital of Hainan at around 2:50 p.m., with winds over 64 km per hour near its eye, local meteorological department said.
The typhoon landed in Xinliao Town in the city of Zhanjiang in Guangdong, at 6:25 a.m.
As of 2 p.m., 17 flights had been cancelled at Meilan airport in Haikou, but no passengers were stranded.
Haikou's education bureau has ordered all schools and kindergartens in the city to be closed from Wednesday afternoon.
The State Oceanic Administration had issued alerts for waves and storms as of Wednesday morning.
Passenger ship services across the Qiongzhou Strait between Hainan and Guangdong were halted Monday afternoon and after a short resumption were suspended again at 10:30 a.m. Tuesday.