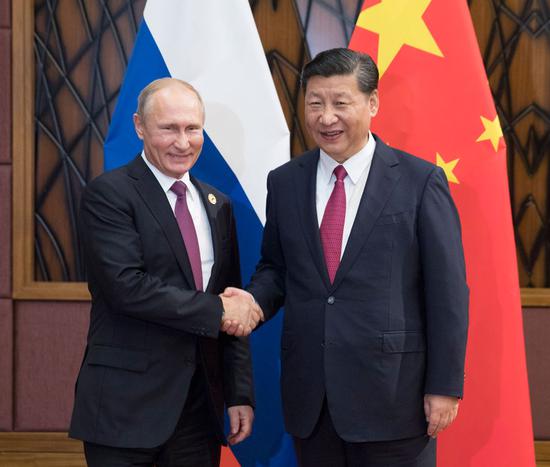 President Xi Jinping(R) meets with Russian President Vladimir Putin in Da Nang, Vietnam, Nov. 10, 2017. [(Photo/Xinhua)
Special: SCOQingdaoSummit
Russian President Vladimir Putin referred to President Xi Jinping as a reliable partner and good friend ahead of his trip to China for a state visit and attendance at the Shanghai Cooperation Organization Summit.
Putin made the remarks in an interview on May 31 with the China Media Group at the Kremlin, and the transcript was published by the Russian Presidential Executive Office on Wednesday.
Putin said, "He (Xi) is a very accessible and sincere person. But at the same time, he is a very reliable partner."
Putin, who will arrive in China on Friday, has noted a personal relationship with Xi and said Xi is probably the only world leader he has celebrated one of his birthdays with.
"He probably will not be angry with me if I share that we drank a shot of vodka and just cut up some sausage," Putin said.
Putin also said that Xi strives for the best results in his work and for the benefit of every person in China.
"He is a good analyst, and it is interesting to discuss world problems and economic issues with him. Therefore, he is a very comfortable partner for me and a good and reliable friend," Putin said.
Putin also expressed high hopes for the SCO as a global organization.
"Joint efforts of such a powerful group will be an important factor for our own development, and will also influence the international situation", Putin said.
China is Russia's largest trade partner, with total trade volume between the two countries reaching $87 billion in 2017, Putin said.
He noted that the two countries have built an unusual type of relationship. "It is truly built on consideration of each other's interests," he said.