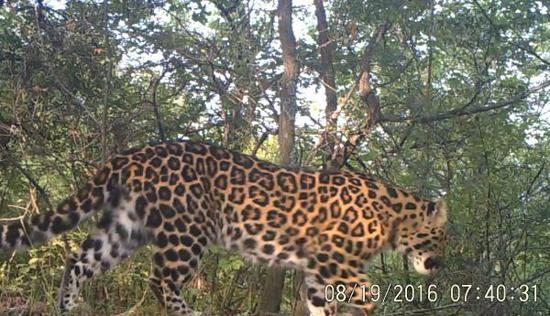 Infrared cameras catch the image of a North Chinese leopard in the Ziwuling forest area of Shaanxi Province. (Photo courtesy of the State Forestry and Grassland Administration)
(ECNS) -- Chinese researchers have confirmed the existence of wild populations of North Chinese leopards, an endangered subspecies, in the Ziwuling forest area of Shaanxi Province and the Taihang Mountains forest in Shanxi Province.
A tiger and leopard research center under the State Forestry and Grassland Administration and a team from Beijing Normal University have been conducting the research. The two sides have completed studies of Siberian tiger and Amur leopard populations in the past.
Feng Limin, an associate professor at the university, said researchers now have a better picture of the species in the wild after finding traces of the leopards in several forest areas in Shaanxi and Shanxi provinces.
The wild population of the species in Ziwuling forest was the largest number ever found in China, said Feng. In just one year, infrared cameras have taken images of at least 28 North Chinese leopards in a zone covering about 800 square kilometers.
The distribution, quantity, habitat, and genetic makeup of the North Chinese leopard, a top species in the region's forest ecosystem, have been lacking scientific and systematic research.
The National Natural Science Foundation of China funded the investigation and scientific research in order to solve the mystery of the leopard's survival.
Feng said the finding was exciting because it also shows that the once fragile ecological system from the Taihang Mountains to the Loess Plateau in northern Shaanxi has gradually recovered thanks to years of preservation and rehabilitation.
Feng also said that new studies show the rapid decline of leopard populations and the shrinking space of their habitats.