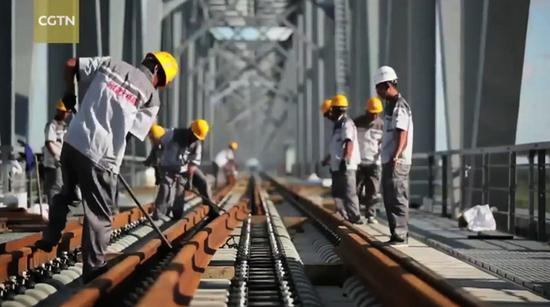 The bridge has cost 2.6 billion yuan, about the price of five Boeing 737 aircraft. /CGTN Photo
Special: SCOQingdaoSummit
Northeastern China is separated from Russia by the Heilongjiang River that Russians call the Amur. A new 2.2-kilometer bridge is being built across the river with construction scheduled to be completed this year.
Zhou Jianqiao's name means "bridge builder." His father helped build China's first bridge across the Yangtze river in the 1950s. The name describes pretty much everything Zhou has been doing over the past 30 years.
But this bridge on the border with Russia is a challenge for him.
For the Chinese contractor, although proud of a proven track record in bridge-building, getting things done under minus 30 to minus 40 degree Celsius takes more than just courage. Things can get tricky when there's floating ice.
Construction of the bridge started in 2014 but came to a halt due to funding problems and building delays in Russia. China finished its part of the bridge in 2016, but things on the Russian side have just started picking up the pace.
Lin Yongquan, the secretary of the working committee of the 2nd engineering bureau at China Major Bridge Engineering said, "Russia hasn't been involved in this kind of project for quite some time, so engineers from both sides had to meet frequently to solve technical difficulties. We have been patiently waiting for our Russian partners to finish their job, and our company has also made financial sacrifices while we waited."
Historically, joint infrastructure projects have been good ways to pull nations together. This highly anticipated steel and concrete piece of work, when completed, will become the first of any kind to connect China and Russia across the 4,300 kilometers of boundary line, and set an example of how connectivity can be enhanced among SCO member countries.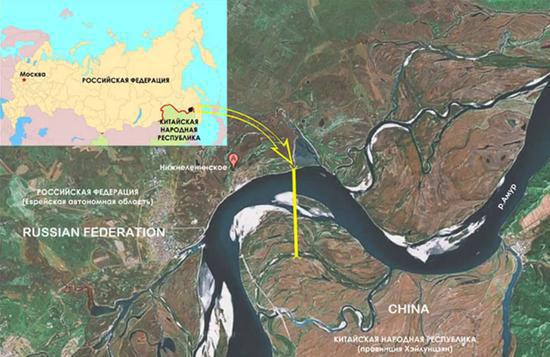 It will link China's northeast railway network with Russia's Siberian railways. /CGTN Photo
The bridge has cost 2.6 billion yuan, about the price of five Boeing 737 aircraft. It will link China's northeast railway network with Russia's Siberian railways. This will provide a new connection to European markets, and cut the distance for customers by about 700 kilometers.
Experts say the long and difficult process shows there might be difficulties for the two sides to overcome in their future partnership on developing the Far East of Russia.
"The bridge will provide a service that Heilongjiang Province and Russia's Far East need, because the more cross-border infrastructure links there are, the greater the opportunities for increasing the flow of goods," said Liu Xichun of China Railway Harbin Group – the investor for China's part of the bridge.
Heilongjiang's trade with Russia reached 11 billion US dollars in 2017, a 20 percent year-on-year increase. When China's then Vice Premier Wang Yang met Russian Deputy Prime Minister Yury Trutnev in Harbin earlier this year, both sides agreed the shared border can promote closer cooperation in various sectors. The 2nd China-Russia oil pipeline started operations in January, and construction of a cross-border natural gas pipeline is in full swing.
Together with other cross-border infrastructure programs aimed at enhancing connectivity among China, Russia, Central Europe, and Central Asia, the China-Russia railway bridge is just one of the many shared routes being rolled out to meet future demands among SCO members.