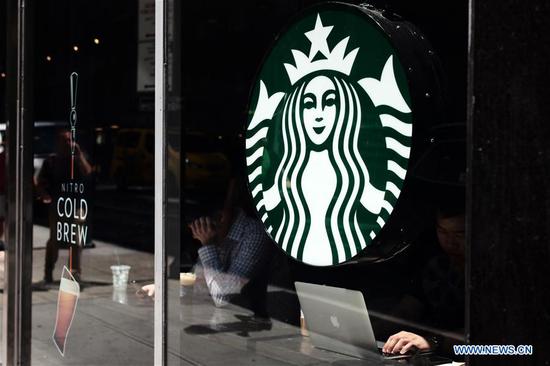 A Starbucks logo is pictured in Manhattan, New York, the United States, May 29, 2018. Starbucks closed about 8,000 company-owned stores in the United States on Tuesday afternoon to offer nearly 175,000 employees a mandatory anti-bias training. (Xinhua/Li Muzi)
U.S. top coffeehouse chain Starbucks closed more than 8,000 stores across the country Tuesday afternoon to train around 175,000 employees about racial bias following an incident last month that sparked an outcry.
Starbucks workers at each location broke into small groups to receive racial bias education so as to prevent discrimination at stores.
During the Tuesday session, the employees at different stores and its headquarters in Seattle in Washington state received training from a "tool kit" that focused on understanding prejudice and the history of public accommodations in the United States.
Starbucks said the training curriculum was developed with guidance from several national and local experts confronting racial bias and discrimination.
The company's workers were taught how to address implicit bias, promote conscious inclusion, prevent discrimination and ensure everyone inside a Starbucks store feels safe and welcome, it said.
The training is part of Starbucks' efforts to rebuild its image and reputation after the April incident involving the arrest of two black men at a Philadelphia store.
In the incident, a store manager called the police because the two men did not buy anything while sitting in the store. They were asked to leave after one was denied access to the bathroom. Then they were arrested for trespassing.
Starbucks and the police apologized later after a video about the story went viral on the Internet and caused an outcry across the country.
Starbucks CEO Kevin Johnson called the arrests "reprehensible" and promised to take action to prevent such incidents from happening again during an interview with ABC TV channel in April.
"My responsibility is to ... ensure that this never happens again," he said.
Starbucks said in a statement last month that it will make the anti-bias education available to other companies, including its licensee partners, for use with their employees and leadership.
Future training will address "all aspects of bias and experience," it said.