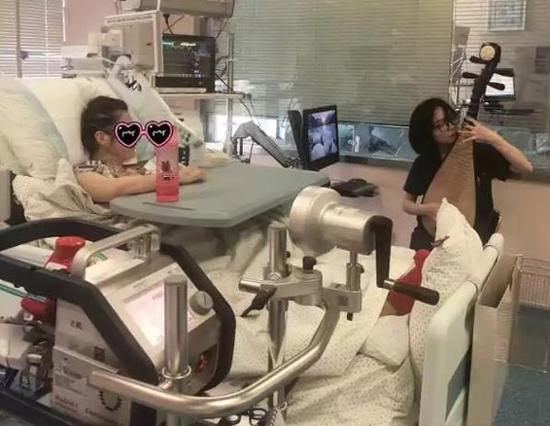 Zhang Xinyi (R) plays pipa for ICU patient. (Photo/Qianjiang Evening News)
A special music recital with only one audience took place in an ICU ward last Friday in Hangzhou City, east China's Zhejiang Province. To console an anxious patient waiting for a heart transplant, a young doctor began playing a traditional Chinese musical instrument called the pipa to soothe her with its uplifting melody.
The versatile doctor is Zhang Xinyi, a 27-year-old medical school graduate who joined the ICU department of the Second Affiliated Hospital to Zhejiang University's School of Medicine last year, local newspaper Qianjiang Evening News reports.
Zhang started playing the pipa, a four-stringed traditional Chinese musical instrument, when she was eight. As a young girl, she practiced wholeheartedly and passed the highest level of the pipa music proficiency test at a young age. The instrument accompanied her through medical school, and Zhang has managed to continue practicing and even formed a duo with her colleague after joining the ICU ward.
At the beginning of May, Zhang received a patient suffering from a cardiac shock in the emergency room. The patient, Hua Ning, was diagnosed with heart failure and was connected to an artificial heart-lung device to maintain her life.
When she finally woke up from the long coma, Hua was informed that her heart was not getting better and the only solution was having heart transplantation.
While waiting for a transplant Hua repeatedly experienced nightmares and mental breakdowns. When panic hit her, the patient had to grip tightly to a nurse's arm to relieve the anxious feeling.
Last Friday, Hua overheard that a young doctor was practicing the pipa every day. When she heard Zhang's supervisor asking others to tell Zhang not to disturb patients if she practices at the hospital, Hua chimed in.
"You are being too strict to the young doctors. Playing musical instrument is good. I want to hear," Hua said.
Knowing Hua had been feeling discouraged, Zhang's supervisor thought a little music might cheer up the patient. She then asked Zhang to play for Hua at her ward.
Zhang immediately agreed and brought her pipa to Hua's ward. She picked an uplifting song, sat at a chair near Hua and moved her fingers smoothly in between the strings. During the four-minute recital, Hua enjoyed in silence.
"I'm blessed to hear such a beautiful melody in an ICU ward," Hua said. After the solo performance, Hua's spirit was lifted and her sleep quality improved.
"We play birthday songs via speakers for our ICU patients to celebrate their birthday, but this is the first time we had live music in the ward," Zhang's supervisor said. "I'm surprised at the power music can bring to our patients."