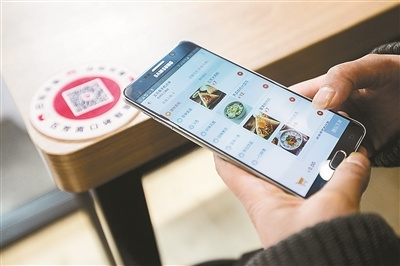 A customer orders food via his smart phone at an unmanned restaurant of Wufangzhai in Hangzhou, capital city of east China's Zhejiang Province. (Photo/hangzhou.gov.cn)
Chinese food brand Wufangzhai has opened an unmanned restaurant in Hangzhou, capital city of east China's Zhejiang Province.
Wufangzhai is a 97-year-old brand and is a famous producer of Zongzi,glutinous rice dumplings wrapped in leaves.
The company collaborated with Koubei, a food and dining service operated by e-commerce powerhouse Alibaba, to launch its first unmanned restaurant, where customers can order and take meals on their own.
Without waiting in line, customers can order meals through self-service machines or by scanning a quick response code on a table with their smart phones, and take their meals from cupboards at the restaurant.
The restaurant has a 24-hour service, along with dish recommendations for customers based on big data provided by Koubei.
"It is very convenient to use a phone to order meals with the recommendation service," said a man surnamed He from Hangzhou. "It only takes about a three-minutes wait for the meals."
Dining in the unmanned restaurant is "a fresh experience," said another resident. "The self-service process is easy and smooth."
"The restaurant mainly depends on the big data of Koubei, which can improve its running and management," said Koubei CEO Fan Chi.
Turnover of the restaurant has increased by 40 percent over the past month. "Labor costs have declined on the other hand, said Wang Shuying, manager of the restaurant. "The number of staff has decreased to about six from the previous 13."