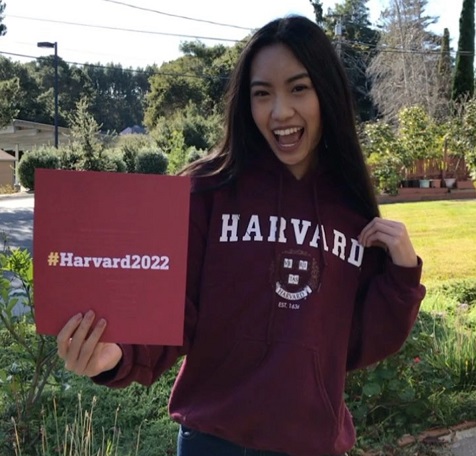 Annie Lu, a senior at Mills High School in Millbrae, California, has been accepted by Harvard University for its Class of '22. (Photo Provided to China Daily)
Harvard University, which is facing claims of racial discrimination against Asian-Americans in its admissions process, has announced that its early acceptance rate for Asian-Americans for the Class of 2022 has hit 24.2 percent, up from 21.7 percent a year earlier.
The figures were released on Dec. 12 by the school on its official website, the Harvard Gazette.
Of the 6,630 applicants who applied for admission under the early action program, 964 were accepted. The college said 4,882 were deferred, 611 were rejected, and 173 applications were incomplete.
The early enrollments for the Class of 2022 also reflects an overall increase in other nonwhite students from previous years, the prestigious university said.
African-Americans make up 13.9 percent of students admitted early, compared with 12.6 percent last year. At the same time, Latinos account for 9.8 percent, up 1 percentage point last year, and Native Americans/Native Hawaiians account for 1.8 percent, up from 1.1 percent.
"From small towns, suburbs, and cities - from throughout the United States and around the world - the Class of 2022 promises to be among the best classes in Harvard's long history," said William R. Fitzsimmons, dean of admissions and financial aid at Harvard University.
Harvard is facing scrutiny from the Department of Justice and a separate lawsuit accusing the college of discriminating against Asian-Americans in its undergraduate admissions process.
2015 lawsuit
In November, the Justice Department cited a 2015 lawsuit that charges Harvard's affirmative action policies discriminate against Asian-American applicants, in a letter setting a Dec 1 deadline for Harvard to hand over documents on its admission policies.
Responding to that deadline, Harvard offered a compromise position in which the government's lawyers would be able to examine all the records, including an electronic database, in the offices of Harvard's lawyers, with some personal information redacted, according to The New York Times.
Harvard University reported that 16.6 percent of a total 29,652 students are Asian, according to collegefactual.com.
Over the past five years, the total international population of students on campus has grown at an average rate of 6.8 percent. China is the largest contributor to this growth, with an estimated 1,263 students.
Fitzsimmons said in an earlier interview with the Harvard Crimson, the school's newspaper, that the pool of early applicants is typically less diverse than regular applicants, though he said he believes recent efforts to increase awareness of the early admissions program have served to mitigate some of the disparities.