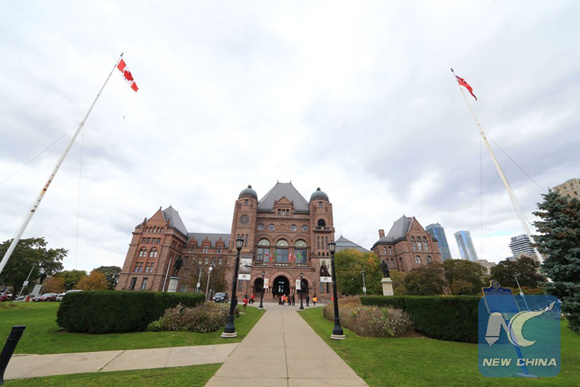 Photo taken on Oct. 26, 2017 shows the exterior of Canada's Ontario Legislative Building in Toronto, Canada. Canada's Ontario provincial parliament Thursday passed a motion designating Nanjing Massacre Commemorative Day to commemorate the mass killing of 300,000 Chinese by Japanese troops in Nanjing during World War II. (Xinhua/Zou Zheng)
The legislature of Canada's east-central province of Ontario Thursday passed a motion recognizing Dec. 13th in each year as "Nanjing Massacre Commemorative Day."
The No. 66 motion, adopted by the Legislative Assembly of Ontario, was the first of its kind in a western country.
It was introduced by Chinese-Canadian lawmaker Soo Wong in a bid to acknowledge and honor the over 300,000 victims of the Nanjing Massacre, a heinous crime committed by the Japanese militarists during the World War II.
"The passing of this Motion is an important step in affirming Ontario's inclusive values. It recognizes the horrors of World War II in Asia, and shows humanity for victims, survivors, and families affected by the Nanjing Massacre, many of whom live in Ontario," said Wong in a press release Thursday afternoon.
"My motion is very similar to what I introduced last year Bill 79. It's no difference. If passed, the motion will recognize every December 13 Nanjing Massacre Commemorative Day in Ontario," Wong said in an earlier interview with Xinhua.
It is important for the residents of Ontario, home to largest Asian community in Canada, to "reflect and educate" themselves about the enduring lessons of the Nanjing Massacre and other World War II atrocities in Asia as many are unfamiliar with this part of history, Wong said.
This year marks the 80th anniversary of the Nanjing Massacre, in which more than 300,000 Chinese lives were taken by Japanese invaders when they occupied Nanjing, then China's capital, from Dec. 13, 1937.
The Bill 79 Wong introduced in 2016 also called for the designation of December 13 as Nanjing Massacre Commemorative Day in Ontario. The bill passed the second reading last December, and will go through a third reading in December this year. If passed, Dec. 13 will become an official commemorative day in the province.
However, the bill has encountered strong opposition from Tokyo. Japanese lawmakers reportedly have sent a letter to the Ontario government against the bill and lobbied against its third reading. Almost 100,000 signatures have been collected in Ontario Asian communities in petition to pass Wong's bill so far.
Wong said she had received a postcard from Japan with no signature on it, which gives an alternative number of deaths killed in Nanjing during the World War II.
"We know the history, we also know the fact," Wong said.
MORAL OBLIGATION TO TELL FUTURE GENERATIONS ABOUT WWII CARNAGE
The motion the Ontario legislature adopted Thursday might be still steps away from becoming a law, it still carries great significance for Canada and for the world as a whole, as there is a "moral obligation" to tell future generations about the carnage, terror and tragedies that happened in World War II, Canadian experts said.
This Motion is "of great importance" for the Chinese and other Asian communities in Ontario, said Dr. Joseph Wong, founder of Toronto Alpha (Association for Learning and Preserving the History of the Second World War in Asia).
"It shows the provincial legislature for the first time recognizes that atrocities in Asia's WWII, symbolized by the horrors of the Nanjing Massacre, did occur and important enough to be remembered every year, and promoted in our education system," Joseph Wong said in a press release on Thursday.
"The motion does not replace Bill 79. This motion not only is important locally and in Canada as well, it is very important internationally," he said earlier, adding Bill 79 is still at the committee level in the provincial legislature.
Remembering the Nanjing Massacre will not be "divisive" for Ontario's Japanese and Chinese communities as some Japanese lawmakers suggested, he said, instead it provides "a foundation" on which all Asian communities can build trust and reconciliation and peace."
"As educators we have the responsibility to ensure our students understand the realities of World War II in Asia so we can have a more authentic dialogue about social justice, courage and humanity," said Gerry Connelly, an ALPHA education board member and former director of education at the Toronto district school board.
"This Motion for the 'Nanjing Massacre Commemorative Day' is a big step in raising awareness to stimulate this dialogue," Connelly said.
Karen Lin, an Associate at Solstice Public Affairs, couldn't agree more.
Canadian students learn about the horrible tragedy that happened when the U.S. army dropped atomic bombs in Nagasaki and Hiroshima, unfortunately, Ontarians have not had the opportunity to learn and understand the series of events leading up to the military action conducted by the U.S. army in Japan, said Lin in an open letter to Ontario Premier Kathleen Wynne recently.
Neither have Ontarians had the opportunity to learn about the tragedies of the killing of many innocent lives in China, Korea, the Philippines and many other East Asian countries by a brutal Japanese military occupation, Lin said.
Lin's letter was widely endorsed by more than 100 registered Chinese Canadian Organizations, registered Chinese Canadian Cultural Groups and Associations, various associations from different ethnic communities as well as many labor unions across Ontario.
Many prominent Japanese Canadians such as Joy Kogawa have spoken out in support of Bill 79.
Joy Kogawa, who is Japanese Canadian and an author in Toronto, said that she fully supported the bill.
"The facts are the facts, and it is wrong to deny them," said Kogawa, who's been awarded the Order of Canada and Japan's Order of the Rising Sun.
It's time for atrocities in Asia to be as well-known as those in Europe or Canada, Kogawa said, adding she has met and argued with many Japanese people who think the Rape of Nanking did not exist.
In November 2007, the House of Commons, the lower house of Canadian federal legislature, unanimously passed a motion urging Japan to offer "formal and sincere" apologies to foreign women forced into sexual servitude during World War II. Canada played a vital role in defending Hong Kong against the Japanese military invasion as part of the commonwealth during the war.