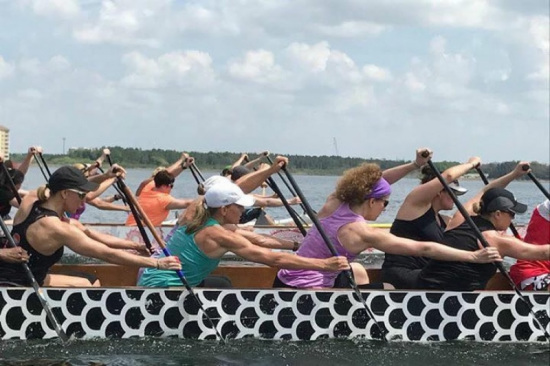 Participants in the dragon boat during competition /Photo via Texas Dragon Boat Association
Forty dragon boat teams competed in the 14th Gulf Coast International Dragon Boat Regatta on Saturday and Sunday in Houston, Texas.
Organized by the Texas Dragon Boat Association, a non-profit organization, the event attracted hundreds of local people in Houston.
"Dragon boating provides not only a unique team building experience for the participants, but also an opportunity to enhance mutual understanding and friendly relations between China and the US and encourages dialogue between diverse cultures," said David Mandell, president and executive director of Texas Dragon Boat Association.
In addition to the dragon boat competition, spectators at the event could watch Chinese Tai Chi and Kung Fu shows, Korean dancing and other traditional Asian performances.
Tim Burnett has been practicing Chinese Kung Fu for eight years. He said he started Tai Chi a few months ago as its slow movement was suitable for his age and health condition.
"My health would definitely deteriorate if I didn't practice Chinese Kung Fu," Burnett said, adding that although difficult, he enjoyed every class of Kung Fu and Tai Chi.
The Houston Chinese American Lions Club held the first Houston Dragon Boat Festival in October 2001 with eight teams competing. In 2003, the Texas Dragon Boat Association joined to promote the tradition of dragon boating, increase awareness of Asian and Asian-American culture, and enhance cross-cultural understanding.
With the success of dragon boat racing in Houston in May 2003, the organization added a second event, the Gulf Coast International Dragon Boat Regatta in October 2004. These make up the two dragon boat competitions in the Houston area each year.